OPS retirement funding options proposed
The Legislature's Nebraska Retirement Systems Committee heard two proposals Feb. 14 to deal with funding shortfalls in the Omaha school retirement system.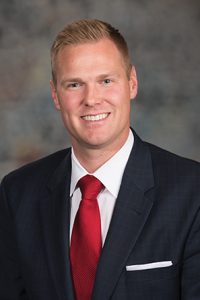 Two amendments were proposed to LB548, a bill introduced last session by Omaha Sen. Brett Lindstrom that would have consolidated the Class V (Omaha) School Employees Retirement System (OSERS) with the School Employees Retirement Plan.
Lindstrom proposed an amendment this session, AM1529, that instead would expand the bonding power of school districts in Nebraska to include bonds to address retirement system pension obligations in an amount determined by an actuary. A bond could be authorized by a majority vote of the entire school board or board of education and would not be subject to voter approval.
Lindstrom said the bonds would be inside the $1.05 levy limit, so they would not result in increased taxpayer obligations. In addition, he said, authorizing pension bonds now would allow Omaha Public Schools to take advantage of current interest rates.
Currently, he said, OPS faces actuarially required contribution (ARC) payments to the OSERS plan on an annual basis to address the system's unfunded liability. These payments are in addition to the statutorily required 101 percent contribution rate, he said, and are difficult to budget for because they change on a yearly basis.
Lowering those ARC payments in the short-term would produce millions in long-term savings for Omaha taxpayers, Lindstrom said, and allow OPS to schedule predictable yearly payments.
"I believe my amendment provides a sensible and fiscally responsible solution for OPS to re-structure existing debt into a more manageable and affordable payment method," he said.
OPS board member Lou Ann Goding supported the amendment, saying the board is working hard to find a solution to the retirement system's unfunded liability. The system required a $12.8 million ARC payment in 2017, she said, and the total unfunded liability over 30 years could total roughly $880 million if nothing changes.
"The OPS board understands that the unfunded liability is our obligation. We understand that these ARC payments must be paid, and they will be paid," Goding said, adding that an infusion of approximately $200 million in capital through a pension bond would lessen the likelihood of future ARC payments—at least in the short term.
OPS board president Marque Snow also testified in support. He said the board is looking at ways to cut $16 million from this year's budget "from as far away from the classroom as possible" in order to cover the 2018 ARC payment. The board also is examining structural changes that would lower the retirement system's unfunded liability in the long term, he said.
"Our job is to try to find the best solutions possible for our students, for our employees, for our retirees and for our taxpayers," Snow said.
Randy Gerke, director of the Nebraska Public Employees Retirement System (NPERS), testified in opposition to a provision in the amendment that would require the Public Employees Retirement Board (PERB) to perform an actuarial valuation of the OSERS plan every five years, beginning Jan. 1, 2023. The study would determine whether an ARC payment is necessary to maintain the system's solvency.
Gerke said he did not believe that PERB has the authority to administer to the OSERS plan, nor does it have a mechanism to pay for the study. In addition, he said, the NPERS and OSERS plans operate according to different assumptions.
Lindstrom said he would be willing to remove that provision.
Also considered was an amendment offered by Seward Sen. Mark Kolterman, AM1758, which would withhold from OPS all state aid certified through the school funding formula unless the district certified that it has paid any required ARC in full by Aug. 31 each year.
The amendment also would update mortality tables and clarify retirement plan practices not specified currently in state law.
Kolterman, chairperson of the Nebraska Retirement Systems Committee, said that while OPS has expressed intent to make their full ARC payments every year, his amendment would provide an additional assurance.
"At the present time, neither the state nor [the committee] has an enforcement mechanism to ensure compliance with the funding commitment," he said. "If the full ARC payment is made each year, on time, the mechanism is never triggered."
OSERS executive director Cecelia Carter supported the proposal. The amendment would provide a defined funding date for any future ARC payments and makes other needed changes, she said.
"This amendment provides—to the existing and future OPS executive and finance staff and board of education members—clear and precise procedures, timelines and consequences with respect to the annual payment of any [ARC] payment," Carter said.
David Kramer, OPS outside counsel, opposed a provision in the Kolterman amendment requiring that an ARC payment be made by a board of education within 45 days of receiving written notification.
"That is not always easy, even for a school district as large as Omaha Public Schools is," he said.
Kramer also expressed concern that the amendment has the potential to give the unelected OSERS board the ability to manipulate the assumptions that are used to calculate the ARC, ultimately giving them the ability to move taxpayer dollars into the retirement system.
The committee took no immediate action on either amendment.