Bill seeks state funds for county prosecution costs
The Appropriations Committee heard testimony Feb. 13 on a bill intended to assist counties facing costs from correctional institution incidents.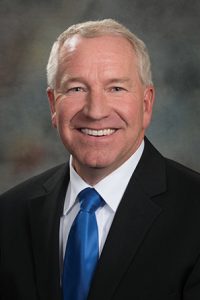 LB861, introduced by Syracuse Sen. Dan Watermeier, would require the state to pay a county's prosecution costs that arise from a single correctional institution incident—defined as one in which a crime is allegedly committed by one or more inmates confined in a state correctional institution—if it exceeds the threshold amount for the county.
Under the bill, the threshold amount is the amount of property tax revenue raised by the county from a levy of 2.5 cents per $100 of taxable valuation of property subject to the levy. The threshold amount would be determined using valuations for the year in which the correctional institution incident occurred.
Costs of prosecution would include, but would not be limited to, the costs of defense for indigent defendants, such as attorney and expert witness fees.
Watermeier said the threshold amount for Johnson County, which includes the Tecumseh State Correctional Institution, is approximately $250,000.
"Everyone is aware of the Mother's Day riot—as well as several other incidents that have occurred at the Tecumseh State Correctional Institution and other facilities since 2015," Watermeier said, adding that the state Department of Correctional Services paid for some expenses related to those events. However, he said, the department has indicated that it will not pay any additional claims.
Now, he said, the county must bear the cost of prosecuting inmates for murders that occurred during the incident. While the public defender and the Nebraska Commission on Public Advocacy will assist with the costs, he said, the county will be required to hire additional attorneys to represent numerous co-defendants.
"Counties cannot fail to prosecute a murder just to save the money," Watermeier said. "To require Johnson County residents to pay more than $225,000 per incident, to defend inmates who are not from their county, does not seem fair and should be the responsibility of the state."
Larry Dix, representing the Nebraska Association of County Officials, testified in support of the bill. The tax base in Johnson County is far less than other counties in which state correctional facilities are located, he said, thus the county has fewer resources.
"This is a unique approach to compensating something by looking at the tax levy," Dix said. "It actually gets to sort of the ability to pay and it also talks about sharing of that expense."
No opposition testimony was offered and the committee took no immediate action on LB861.