Cost-free consumer protections advanced
Lawmakers gave first-round approval Feb. 1 to a bill that would ensure free credit monitoring to consumers following a data security breach.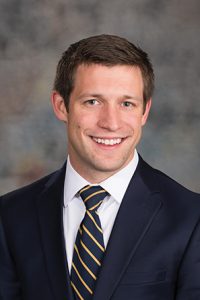 LB757, introduced by Lincoln Sen. Adam Morfeld, would prohibit a credit-monitoring agency from charging fees to place, temporarily lift or remove a security freeze following a data breach similar to the one experienced by Equifax in 2017.
A security freeze places a hold on a person's credit report, preventing identity thieves from opening fraudulent credit accounts using stolen information.
Morfeld said the bill would provide common-sense protection regulations while also allowing the credit reporting industry to continue innovating new services and products.
"None of us as consumers have ever chosen to give our personal information to any of these companies and yet they can profit off of it when they lose it," he said. "Given the staggering loss of information, I think the Legislature must act."
Any individual or commercial entity conducting business in Nebraska that owns, licenses or maintains data including personal information would be required to implement reasonable security measures to safeguard that information. A third-party service provider that receives personal information from an individual or commercial entity also would be required to implement such security measures.
The bill would authorize the state attorney general to prosecute a violation of the bill's security provisions as a violation of the Consumer Protection Act.
Morfeld filed an amendment, adopted 34-0, that would address concerns about language in the bill prohibiting fees on a "substantially similar type of security product." Similar products that offer protection equivalent to a security freeze still would be free, he said, but companies providing products offering more or less protection could charge a fee for those services.
"Personally, I don't think anyone should be charged for credit monitoring from here on out," Morfeld said. "But I also understand that the industry must have the ability to offer additional products."
Following the adoption of a technical Judiciary Committee amendment, senators voted 34-0 to advance LB757 to select file.