Ban proposed for "bump stocks"
A modification designed to increase a semiautomatic rifle's firing power would be banned by a bill heard by the Judiciary Committee Jan. 25.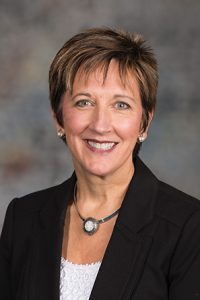 LB780, introduced by Lincoln Sen. Patty Pansing Brooks, would prohibit the manufacture, sale, import and possession of multiburst trigger activators, commonly referred to as bump stocks. Such devices are designed to be attached to semiautomatic rifles to increase its rate of fire.
Pansing Brooks said she decided to sponsor the bill after the Oct. 1, 2017, mass shooting in Las Vegas. The alleged shooter used a bump stock, she said, and subsequently killed 58 people and injured 851.
Gun owners who support banning bump stocks describe the accessory as an unnecessary "toy" that has no use for self-defense or hunting, Pansing Brooks said.
"LB780 suggests that controlling the rapidness of fire will produce fewer bullets in short succession and therefore give the targets of a mass shooting the chance to survive or escape," she said. "This bill is about making good decisions as legislators to keep our communities safe."
A person found in violation of the bill's provisions would be guilty of a Class IV felony, punishable by up to two years in prison and 12 years of post-release supervision, a fine of $10,000, or both.
Pansing Brooks offered an amendment that would remove a provision included in the introduced bill that also would ban silencers on weapons.
Ron Todd-Meyer, representing Nebraskans for Peace, spoke in support of the measure. He said the U.S. has more mass shootings than any other country that is not currently a war zone.
"The use of all tools that create assault-style weapons should be limited to military and law enforcement," Todd-Meyer said. "The mass slaughter caused by these weapons has no place in a civilized society."
Nebraska Firearms Owners Association representative Rod Moeller opposed the bill. He said it is a misconception that bump stocks increase a semiautomatic gun's rate of fire. Most gun magazines hold only between 20 and 40 rounds, Moeller said.
"Once you've fired the rounds in the magazine, you would have to replace it. You probably won't be able to fire off 700 rounds in a minute, even if you can briefly fire at that rate," he said. "The sustained rate would be consistently less because you'd have to change magazines."
The language contained within LB780 is too vague and may negatively impact lawful gun owners, said National Rifle Association representative Brian Gosch in opposition to the bill.
"It is normal to modify a trigger for competition shooting purposes," he said. "Modifications are also sometimes used to help people with disabilities participate in shooting activities."
Shane Kepler of Lincoln also spoke in opposition, echoing concerns that the bill's language is too broad and could impact competitive shooters who regularly modify gun triggers. Banning bump stocks would do nothing to prevent gun violence, he said.
"Anyone with an average skill set can fire a firearm to cause destruction," Kepler said. "Anyone who wants to cause harm is going to find a way."
The committee took no immediate action on the bill.