Participation in EMS compact proposed
Nebraska would join an interstate compact on EMS licensing under a bill considered by the Health and Human Services Committee Jan. 24.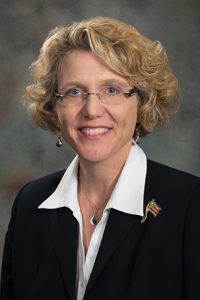 Under LB894, sponsored by Bellevue Sen. Sue Crawford, Nebraska would join the Emergency Medical Service Personnel Licensure Interstate Compact, known as REPLICA. Crawford said that joining the compact would eliminate red tape and allow licensed and qualified EMS personnel to provide care across state lines under authorized circumstances without having to acquire additional licensure.
Authorized circumstances under the bill would include day-to-day responses, interfacility transfers, mass casualty incidents and large scale planned events such as concerts or sporting events. Crawford said REPLICA has been passed in 12 states, including our border states of Colorado, Kansas and Wyoming, and 10 states have legislation pending.
"Under LB894, EMS personnel will function under their home state protocols but are required to practice under a medical director's supervision, bringing both accountability to the process and safety to their practice," she said. "In addition, REPLICA validates our commitment to veterans and their spouses by creating an expedited pathway to licensure in member states."
REPLICA allows licensed emergency medical personnel to practice in compact member states if the home state:
• complies with the rules of the commission;
• currently requires use of the National Registry of Emergency Medical Technicians examination as a condition of issuing initial licenses at the EMT and paramedic levels;
• has a mechanism in place for receiving and investigating complaints about individuals;
• notifies the commission of any adverse action or significant investigatory information regarding an individual; and
• no later than five years after activation of the compact, requires an FBI criminal background check of all applicants for initial licensure, including fingerprints or other biometric data checks.
The cost of background checks would be borne by the individual applicant.
Sue Prentiss, a national advocate for REPLICA, testified in support of the bill. EMS personnel across the nation and in Nebraska want to enter the compact to ease the burden of carrying out their duties when they cross state lines, she said. Nebraska would retain full control over its EMS laws and rules under the bill, she said.
"REPLICA promotes the highest level of public protection for patients and EMS personnel," Prentiss said.
Dave Huey, testifying on behalf of the Nebraska Emergency Medical Services Association, also supported the bill. The number of EMS professionals in Nebraska has been dwindling, he said, dropping from approximately 8,500 four years ago to about 6,200 currently. Eliminating the cost of maintaining multiple licenses could help stem that decline, he said.
"The trend is not increasing, it's decreasing," Huey said. "So, as much help as we can get to help take care of our citizens, that's the goal."
Also supporting the measure was Ann Fiala, speaking on behalf of the Nebraska Board of Emergency Medical Services. The board researched and vetted the compact, she said, and is in unanimous support of joining, adding that there are no fees to the state for adoption or administration of REPLICA.
"It will improve patient care and safety nationwide by promoting and providing a far more efficient process, and thus a considerably higher level of care through the use of a national, coordinated database," Fiala said.
No opposition testimony was offered and the committee took no immediate action on LB894.