Extension of rail compact membership discussed
An agreement to advocate for better passenger rail service throughout the Midwest would continue under a bill heard by the Transportation and Telecommunications Committee Jan. 23.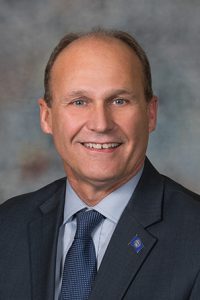 Nebraska is a founding member of the Midwest Interstate Passenger Rail Compact, which promotes, coordinates and supports improvements to passenger rail service among its nine member states. The Legislature passed LB317 in 2015 to end Nebraska's membership on June 30, 2018, due to concerns over the cost of membership.
LB769, introduced by Grand Island Sen. Dan Quick, would allow the state's membership in the Compact to continue indefinitely. Quick said prospective employers looking to locate in Nebraska are concerned with the availability of public transportation.
Remaining a member would provide valuable information, knowledge and motivation to advocate for greater passenger rail service, he said, which in turn would spur greater economic development.
"We are always looking at ways to grow our economy and increase the number of jobs in our state," Quick said. "This is another way to bring people from out of state to Nebraska."
The bill also would establish a cash fund to pay for the biennial $15,000 membership dues. The fund could accept gifts, grants or bequests from public or private sources to cover the cost of membership.
Beth McCluskey of Illinois, chairperson of the MIPRC, spoke in support of the proposal. She said that even with limited service currently available in Nebraska, the economic impact of Amtrak's investments in the state has grown exponentially in the last 10 years.
"Nebraskans and visitors to the state are increasingly using passenger rails," McCluskey said. "Through the compact, our Midwestern states are better able to stand together and advocate for advancements to passenger rail service."
Also supporting the bill was Matthew Roque, president of ProRail Nebraska. Membership in the compact allows Nebraska to collaborate with states that have similar passenger rail needs, he said.
"If we don't [renew] our membership, we will be left sitting on the outside looking in," Roque said. "We cannot discount the importance of having a seat at the table and being a part of the discussions."
No one testified in opposition to the bill and the committee took no immediate action on it.