Installment loan interest rate increase stalls
Lawmakers voted to indefinitely postpone a bill Jan. 10 that would increase the interest rate that licensees may charge under the Nebraska Installment Loan Act.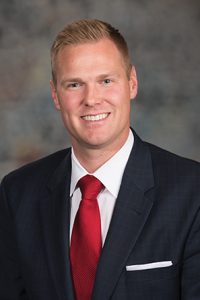 Currently, a licensee may charge a borrower a maximum annual interest rate of 24 percent on the first $1,000 of an unpaid principal balance, and 21 percent on the remaining unpaid balance.
LB384, introduced by Omaha Sen. Brett Lindstrom, would raise the cap to a single rate of 29 percent annually.
Lindstrom said the interest rate cap has not been changed in state law since 1984 and the number of installment loan company locations in Nebraska has fallen from 39 in 2005 to 10 in 2016.
"State licensed and examined installment loan lenders with 'brick and mortar' locations are disappearing in the face of growth in online, out-of-state, unlicensed installment loan lenders," he said, noting that online lenders can charge higher interest rates and do not have the same operating costs as businesses located in Nebraska.
Gothenburg Sen. Matt Williams said he supports the bill even though it allows for an "extremely high" interest rate, because installment loan companies provide an important option for borrowers who choose to utilize them.
"I'm pleased to support something that doesn't take away a choice [from] an individual of where they would choose to borrow money," he said.
Sen. Paul Schumacher of Columbus opposed the bill, calling the 29 percent interest rate that it would authorize "usury." The spread between the prime interest rate and the maximum rate that installment companies may charge has doubled since the 1980s, he said.
"There's been no demonstrable evidence that this extra ability to extract the market position that these people have is needed," Schumacher said.
Omaha Sen. Ernie Chambers also opposed the bill, saying individuals who avail themselves of installment loan companies already have constrained options. The bill's 29 percent interest rate would not be in the best interest of the public at large, he said.
"I could not, in good conscience, agree to a bill like this," Chambers said, before offering a motion to indefinitely postpone LB384.
The motion was adopted on a 19-17 vote, ending consideration of the bill for the session. A simple majority of those voting was required.