Day two bill introduction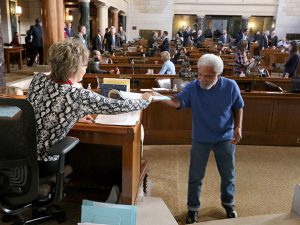 Senators reconvened Jan. 4 to introduce new bills.
Among the 58 bills introduced were:
LB791, introduced by Crete Sen. Laura Ebke, which would change Nebraska State Patrol employees' bargaining rights;
LB794, introduced by Ralston Sen. Merv Riepe, which would change operating requirements regarding intoxicating beverages in cosmetology, esthetics, and nail technology salons;
LB798, introduced by Omaha Sen. Mike McDonnell, which would provide a sales and use tax exemption for feminine hygiene products;
LB801, introduced by Gering Sen. John Stinner, which would adopt the Panhandle Beginnings Act to provide certain services to school-age children;
LB804, introduced by Bancroft Sen. Lydia Brasch, which would include elementary and secondary schools in the Nebraska educational savings plan trust and change tax benefits;
LB816, introduced by Omaha Sen. Ernie Chambers, which would designate Nebraska State Patrol as the agency to investigate criminal activity within Department of Correctional Services correctional facilities;
LB826, introduced by Omaha Sen. Tony Vargas, which would provide for jurisdiction to make factual findings under the Uniform Child Custody Jurisdiction and Enforcement Act;
LB829, introduced by Bayard Sen. Steve Erdman, which would adopt the Property Tax Relief Act;
LB838, introduced by Lincoln Sen. Anna Wishart, which would change provisions relating to the Indoor Tanning Facility Act; and
LB844, introduced by Bellevue Sen. Sue Crawford, which would adopt the Safe Families and Workplaces Act.
A complete list of bills introduced thus far is available at NebraskaLegislature.gov.