Full budget package approved
Lawmakers gave final approval May 9 to the last three components of the state's $8.9 billion, two-year budget package.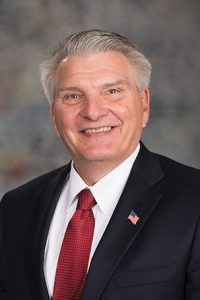 Among the measures passed was LB331, which creates funds, makes fund transfers and lowers the minimum cash reserve requirement from 3 to 2.5 percent for the current biennium.
The bill initially failed to pass with the emergency clause on a 31-12 vote, meaning that no funds could be created or transferred immediately. Thirty-three votes were needed.
Gering Sen. John Stinner, chairperson of the Appropriations Committee, offered a motion to reconsider that vote. Without an emergency clause, he said, the bill would not become law until Sept. 2, 2017, when bills passed this session normally take effect. The current fiscal year ends June 30.
Stinner said lawmakers were "on dangerous ground" – and urged his colleagues to avoid a government shutdown during that two-month gap.
The reconsideration motion was adopted 36-5 and LB331 passed on a vote of 36-12.
LB327, the state's mainline budget bill, also passed on a vote of 36-12 after several motions were offered and withdrawn. Finally, LB332, a bill that makes transfers to and from the Cash Reserve Fund, passed 35-10.
The governor has five calendar days, excluding Sunday, to sign, veto in total or line-item veto appropriations within the budget bills.
If budget bills are returned to the Legislature with line-item vetoes, the Appropriations Committee must report on the fiscal impact of the vetoes within one day and may offer a motion to override any or all of them. Thirty votes are required to override a veto.