Delay in child care rate adjustment amended, advanced
A bill that would delay rate changes for child care subsidy providers was amended and advanced from select file May 8.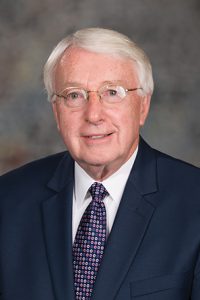 The Child Care and Development Fund Market Rate Survey is required by the federal government. Current state law requires the state Department of Health and Human Services to adjust the rates paid to child care subsidy providers every other year based on the survey.
LB335, introduced by Ralston Sen. Merv Riepe at the request of the governor, would eliminate implementation of any rate changes in 2017. Riepe said the proposal is an important part of the state's budget modification package to address a projected revenue shortfall.
As amended on general file, for the next two fiscal years the provider rate could not fall below the 50th percentile, or the rate for the immediately preceding fiscal year. Currently, the rate that child care subsidy providers receive must be between 60 and 75 percent of the market rate.
Omaha Sen. Sara Howard offered an amendment on select file, adopted 45-0, that would require the rates for the fiscal year beginning July 1, 2018, to be at least the 60th percentile of the last three quarters of the prior fiscal year or the rate for the fiscal year beginning on July 1, 2016.
Howard said the change will ensure that Nebraska is in compliance with federal regulations that require the state to be making a good faith effort to reach the 60th percentile by Oct. 1, 2018. If not, the state could be required to return approximately $30 million in federal funds, she said.
"This has been a really tough bill for me because I hate the idea that child care providers might be suffering and therefore that children might be suffering," she said.
Riepe supported the amendment, saying LB335 needs to pass this year in order to achieve a $1.8 million cost avoidance for the program in FY2018-19.
Following adoption of the amendment, the bill advanced to final reading by voice vote.