Teacher retirement debated, omnibus retirement bill advanced
Lawmakers advanced a bill to select file May 5 that would make changes to the state's school employee retirement plans.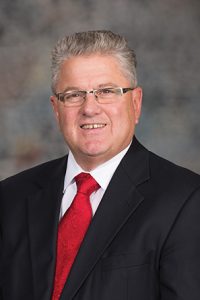 Seward Sen. Mark Kolterman, chairperson of the Nebraska Retirement Systems Committee, said he introduced LB415 in an attempt to eliminate or reduce the practice of teachers "double dipping" – or returning to work after initial retirement.
"Taxpayers have voiced their displeasure with double- and sometimes triple-dipping," Kolterman said. "I believe it's important to encourage plan members to work until they are truly ready to retire."
As introduced, the bill would create a "Rule of 90" with a minimum retirement age of 60 for all school employees who become plan members on or after July 1, 2017. Under the rule, an employee could retire at age 60 if their age plus their years of creditable service equal 90 or higher.
A committee amendment, adopted 38-0, changed the proposal to a Rule of 85 with a minimum retirement age of 60. The change would apply only to employees hired on or after July 1, 2018.
Employees are living longer and collecting benefits for longer periods of time, Kolterman said, noting that a recent study projected that changing the retirement age for new hires from 55 to 60 would save the school retirement plans $100 million over 30 years.
Among other provisions, the committee amendment also would make the following changes to the school employees plans:
• eliminate exemptions that allow intermittent voluntary or substitute service during the 180-day separation of service after termination;
• define early retirement inducement and service in any capacity;
• require a three year break in service if an employee received an early retirement incentive; and
• require a member to certify under oath that he or she does not have a verbal or written pre-arranged agreement with a new employer prior to termination.
Kolterman said the provisions are an attempt to clarify ambiguities in existing law that could place the retirement system in violation of IRS code.
In order to comply with IRS provisions, an employee must experience a "bona fide separation of service," he said. Prohibiting intermittent and voluntary service during the 180 days after a school employee has retired would provide a "bright line" in state law that would delineate such a separation, he said.
"Those work days are being abused," Kolterman said. "We have people who are retired and worked too many days and [we] had to take their retirement away from them [for that time period]. The compliance issue is the most important aspect of this."
Lincoln Sen. Roy Baker offered an amendment, adopted 26-11, that would reduce the break in service requirement from three years to two years for an employee taking an early retirement incentive and would allow employees to engage in voluntary service during the 180-day separation of service period.
Fremont Sen. Lynne Walz, a former public school teacher, expressed concern about the bill's prohibition on retired teachers serving as substitutes during the separation of service period. Nebraska has a shortage of experienced teachers, she said, and the state's school systems rely heavily on retired teachers to fill the gaps.
For example, she said, 341 of the 823 individuals in the Lincoln Public Schools' (LPS) substitute teacher pool are over age 55 and likely are retired teachers. Even with that number of potential substitutes available, she said, LPS still has 4.7 percent of its substitute teacher positions unfilled on a daily basis.
"It makes more sense to be able to contract with someone who has experience as opposed to contracting with someone who has less experience – or not being able to fill the classroom's needs," Walz said.
She offered and later withdrew an amendment that would have allowed retired school employees to substitute or volunteer on an intermittent basis for a maximum of 45 days during the 180-day separation of service period.
Kolterman said that he would rather compromise on the length of the separation period than attempt to fine-tune the definition of intermittent, which he said was the most important provision in need of clarification. He said senators would work on a compromise before the bill comes up for select file debate.
"[This bill] has to move forward because it's all good legislation," he said.
The amended bill includes provisions of six additional measures introduced by Kolterman that would make changes to the various state retirement plans, including:
LB31, which would make changes in the school employees retirement plan related to creditable service;
LB32, which would change the frequency and method of calculation of county prior service annuity payments in the County Employees Retirement Act;
LB110, which would eliminate the obligation of political subdivisions to file annual reports on defined contribution plans after December 31, 2017, and delete the requirement for the Public Employees Retirement Board to design and provide the annual reporting form;
LB278, which would clarify the definition of disability in the county, state and school plans;
LB413, which would make technical and clean-up changes to the judges and state patrol retirement plans; and
LB532, which would make changes regarding military service in the judges and state patrol plans.
Also included in the committee amendment are provisions of LB219, introduced by the Nebraska Retirement Systems Committee, which would change provisions related to authorized benefit elections and actuarial assumptions.
After several senators withdrew pending amendments and motions, the bill advanced to select file 39-0.