Adjustments to state aid to schools advanced
Lawmakers amended and advanced a bill April 19 that would adjust the state's school funding formula to match budget projections.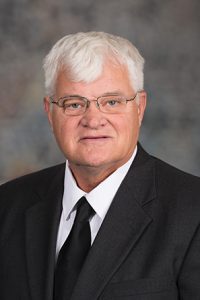 As introduced by Sen. Mike Groene of North Platte, LB409 would modify two components of the formula the state uses to distribute money to school districts.
The base limitation rate — the rate at which school budgets are allowed to grow from year to year — currently is 2.5 percent. LB409 would decrease that rate and increase the local effort rate, which accounts for a district's property tax capacity.
An Education Committee amendment, adopted 34-0, replaced the bill and would reduce the base limitation rate for school fiscal year 2017-18 and FY2018-19 to 1.5 percent and increase the local effort rate to approximately $1.02. It also would calculate net option funding by multiplying the net number of option students by 95.5 percent of the statewide average basic funding per student for those years.
Groene said the bill would increase state aid to schools by 2.1 percent — or approximately $20.8 million — next year. He said the amendment also includes community achievement plan aid for schools in the Omaha learning community that lost funding after the elimination of the learning community's common levy.
Sen. Adam Morfeld of Lincoln supported the amendment and the bill. He said it represents a compromise between balancing the state budget and maintaining education funding, but he said such small increases in education spending are unsustainable.
"We cannot sustain just 1 or 2 percent increases in education spending and maintain the high-quality education that we've been able to provide to our children," Morfeld said.
Gering Sen. John Stinner also spoke in support, saying that the modification to the state's school aid formula is necessary to match the 2.1 percent increase in education funding in the Appropriations Committee's budget proposal.
"Our support of … school funding is still the most significant increase in our budget," he said. "It remained a top priority."
Sen. Lou Ann Linehan of Elkhorn also supported the amendment and the bill, but she said the Legislature needs to re-examine its school aid formula, which she said directs much of the state funding to a few school districts and little to the rest.
"Supporting this today does not mean that we don't need changes," she said. "We do need changes."
Senators then voted 38-0 to advance the bill to select file.