Riverfront development authority bill clears first round
A new economic development tool aimed at riverfront areas was advanced from general file April 5.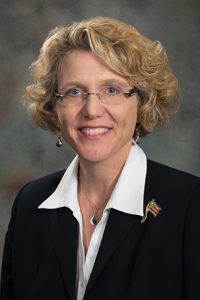 LB97, sponsored by Bellevue Sen. Sue Crawford, would adopt the Riverfront Development District Act. Crawford said the bill would provide a framework for city leaders in 52 eligible municipalities that could be tailored to the needs of an individual city.
Crawford said a city would have the power, by ordinance, to decide whether to utilize the bill's provisions as an economic development tool and decide the amount of power and resources to grant to a riverfront development district (RDD).
"RDDs are a tool that can be used by municipalities across the state to effectively fund, manage and promote economic development and tourism efforts on riverfronts," she said.
Under the bill, metropolitan, primary and first- and second-class cities could create a riverfront development district and appoint an authority of five or more members to oversee and manage the district. Two or more cities with a contiguous riverfront could enter into a joint authority.
A city would be required to set a cap on bonding and could limit an authority's power by ordinance. In addition, an occupation or special assessment could not be imposed on the same property by both a riverfront development district and a business improvement district if the districts overlap.
As introduced, an authority's real property, income and operations would be exempt from all taxation by the state or any political subdivision of the state.
Crawford offered an amendment, adopted 25-0, which eliminated the local sales and use tax exemption for purchases made by an RDD authority. She said the change would eliminate almost 90 percent of the bill's fiscal impact.
"The amendment will greatly reduce the projected loss of general fund revenue," Crawford said.
Speaker Jim Scheer of Norfolk spoke in favor of the amendment and the underlying bill, but told lawmakers that LB97 would not be advanced further than select file. Bills with a general fund impact cannot pass this session given the state's current fiscal situation, Scheer said, but several were placed on the agenda in order to allow senators to discuss their public policy benefits.
Among other provisions, an authority — in conjunction with a city — would have the power to:
• fix, charge and collect rents and fees;
• invest in instruments, obligations, securities or property;
• install pedestrian shopping malls or plazas and other facilities;
• construct, install and maintain boardwalks, barges, docks and wharves;
• develop, manage and coordinate public activities and events within the district; and
• issue limited obligation bonds secured by a pledge of any revenue of the authority or by mortgage of property owned by the authority.
Following adoption of the amendment, LB97 advanced to select file 39-0.