Accommodations for pregnant and parenting students advanced
Lawmakers advanced a bill April 4 that would require schools to provide students who are mothers with a private place to express breast milk.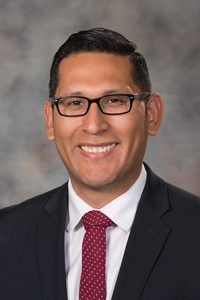 Current law allows a mother to breast-feed her child in any public or private location where she otherwise is authorized to be. Introduced by Sen. Tony Vargas of Omaha, LB427 would expand that provision to include mothers who attend public, private, denominational or parochial day schools. The bill would require those schools to provide private or appropriate facilities or accommodation for milk expression and storage for their students.
"By accommodating student mothers and giving them a place to express and store milk, we are proving the support that they need, increasing the likelihood that they will be able to finish their education and thrive later in life," Vargas said.
Vargas introduced an amendment, adopted 27-9, that would incorporate provisions from his LB428. It would require school districts to adopt a written policy providing standards and guidelines to accommodate pregnant and parenting students. School policies would be required to include the minimum standards contained in a model policy that would be developed by the state Department of Education.
At a minimum, the policy would provide for student absences due to pregnancy and allow students to return to school and participate in extracurricular activities after pregnancy. It also would provide alternative methods for keeping pregnant or parenting students in the classroom by allowing them to complete coursework at home or by providing online classes or visits from tutors.
Vargas said an ACLU survey of Nebraska schools found inconsistencies in school district policies to accommodate pregnant and parenting students. He said some districts could be doing more to help young mothers stay in school.
"It's time to have more consistency in how pregnant and parenting students experience school," Vargas said. "Too often they are presented with the dilemma of choosing between continuing their education or parenting their child."
The model policy also would identify private, hygienic spaces where students could express breast milk during the school day. Finally, if schools do not have an in-school child care facility, the policy would establish a procedure for assisting student parents by identifying local child care providers.
The department's model policy would be developed and distributed to districts by Dec. 1, 2017, and districts would be required to adopt a policy by May 1, 2018. The policies would be implemented at the start of the 2018-2019 school year.
Sen. Lydia Brasch of Bancroft supported LB427, saying that it would help young mothers complete their educations. However, she opposed Vargas's amendment, saying that the state should not mandate the contents of a school policy for accommodating pregnant and parenting students.
"If it is perceived that schools are not doing the right thing, then I believe we do have an issue that should go before school boards," she said.
Sen. Jim Scheer of Norfolk opposed the amendment. He said the Department of Education and the state board of education should be free to develop a policy to accommodate pregnant and parenting students without a mandate from the Legislature.
"I think this shows disrespect for that board and for those members," he said. "We have an obligation to allow them to do their job."
Sen. Bob Krist of Omaha supported the amendment and the bill. He said some government mandates, such as laws requiring public buildings to be accessible to people with disabilities, are the right thing to do, even if they are not accompanied by funding.
"We have an obligation to make sure that accommodations are made for circumstances that are … potentially beyond people's control and … that caused a difference in a life that makes it more difficult for that person to succeed," he said.
Vargas also introduced an amendment, adopted 33-2, clarifying that the requirements in LB427 would not limit the authority of administrators or teachers to regulate student behavior or the authority of a private, denominational or parochial school to regulate student behavior in order to prevent interference with the educational process.
Senators then voted 29-3 to advance LB427 to select file.