Bill would ban vehicular trespassing
Members of the Judiciary Committee heard testimony March 22 on a bill that would create penalties for entering others' vehicles.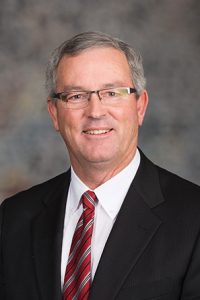 Under LB593, introduced by Venango Sen. Dan Hughes, a person who remains in any vehicle where he or she is not licensed or privileged to do so would be guilty of criminal trespassing. The trespass prohibition would apply to any vehicle, aircraft, watercraft or farm implement.
Hughes said law enforcement currently cannot intervene to protect the property of citizens if it has been taken from an unlocked vehicle. If a police officer sees a person that is not a farmer carrying a John Deere toolbox full of tools, for example, it would be suspicious, he said.
"Even if officers observe an item in an individual's possession that they believe has been taken from a vehicle, if it has not been reported as missing, it cannot be seized as evidence," he said. "The current law allows criminals to rifle through vehicles, steal personal property and damage vehicles with impunity."
A first or second offense would be considered a Class III misdemeanor, punishable by up to three months in prison, a $500 fee or both. Any subsequent offense would be a Class I misdemeanor, punishable by up to one year in prison, a $1,000 fee or both.
McCook Police Chief Isaac Brown, representing the Police Officers Association of Nebraska, spoke in favor of the bill. He said a person may notice that their car has been rifled through, but unless they report a specific missing item, there is nothing law enforcement can do.
"This would allow officers and deputies to proactively intercede when they see individuals rifling through vehicles," he said. "It would grant [law enforcement] the ability to effectively intervene on behalf of our citizens."
Representing the Nebraska Criminal Defense Attorneys Association, Spike Eickholt opposed the bill. He called the proposal an unnecessary over-criminalization of conduct.
"There are enough crimes in the statutes and enough penalties available, we do not need to add anymore," he said. "[These incidents] can easily be resolved and remedied if individuals locked their car doors."
The committee took no immediate action on the bill.