Penalties proposed for misrepresenting service animals
Rental property pet restrictions would be reinforced under a bill heard by the Judiciary Committee March 17.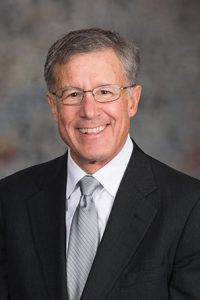 Under LB491, introduced by Omaha Sen. John McCollister, a person who fraudulently represents a pet as a service animal would be guilty of a Class III misdemeanor, punishable by up to three months in prison, a $500 fine, or both. Subsequent offenses would be categorized as a Class II misdemeanor, punishable by up to six months in prison, a $1,000 fine, or both.
State statute defines a service animal as any dog that is individually trained to do work or perform tasks for the benefit of an individual with a disability, including a physical, sensory, psychiatric, intellectual or other mental disability. Other animals are not considered eligible service animals.
It currently is illegal for anyone to impede or interfere with a service animal. Landlords must accept tenants with service animals, regardless of an established pet policy and cannot charge an additional pet fee.
McCollister said rental property owners and landlords often have little recourse when they suspect a person is misrepresenting a pet as a service animal. Tenants are not required to provide documentation or explain the nature of their disabilities to landlords, he said, making it difficult to combat abuse of the policies.
"As the use of service animals increases, landlords and business owners find people who are abusing the protections designed for people who depend on service animals," he said. "[LB491] addresses these dishonest individuals who take advantage of these protections."
The same penalties would be applied to a person who misrepresents himself or herself as a service animal trainer.
Lynn Fisher, a Lincoln rental property owner, testified in support of the bill. He said his company has a strict no-pet policy, but he has seen a dramatic increase of people using service animals. Registering a pet as a service animal online is relatively easy, Fisher said.
"More and more people are claiming they have a disability as the learn more about the current law," he said "People used to ask if we allow pets, but now they just tell us they have a service or emotional support animal."
Representing Disability Rights Nebraska, Brad Meurrens opposed the bill. He said the problems the bill is designed to address already can be resolved through existing state and federal statutes. The bill would criminalize behavior with which people, businesses and landlords may simply be unfamiliar.
"This bill is not needed, given the existing avenues landlords and retailers already have under state and federal law to curb bad behavior," he said. "It does demonstrate, however, that more awareness and education is needed about the recourse already available under state and federal law."
The committee took no immediate action on the bill.