Bill seeks to lower child welfare caseloads
A bill aimed at reducing child welfare caseloads was considered March 14 by the Appropriations Committee.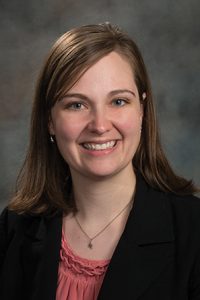 LB189, introduced by Omaha Sen. Sara Howard, would appropriate $500,000 in general funds in each of the next two fiscal years to the state Department of Health and Human Services (DHHS). The funds would be used by DHHS solely for recruitment and retention of child welfare caseworkers to ensure that state caseload standards are met and maintained.
Currently, state law requires that caseloads be within a range of 12 to 17 per caseworker, depending on the case type. Howard said the state has yet to be in compliance with those caseload standards, which were established in 2012. On average, she said, at least 30 percent of DHHS child welfare caseworkers were out of compliance in 2016.
Children suffer when caseworkers are overburdened, Howard said, citing the 2016 annual report from the Office of the Inspector General (OIG) of Nebraska Child Welfare. The OIG report highlighted 22 cases in which children involved in the state's child welfare or juvenile justice systems died or were severely injured.
"These are 22 deaths and serious injuries that may have been prevented with a robust and fully staffed child and family services workforce," Howard said. "These are staff who are first in line to protect the children in our state who are at risk of abuse and neglect."
Inspector General of Nebraska Child Welfare Julie Rogers testified in support of the bill. She said high caseloads directly contribute to negative outcomes for children in the state's child welfare system. For example, she said, the four supervisors working the state's child abuse hotline are responsible for reviewing an average of 1,500 calls per month, in addition to their other duties.
The OIG investigated the case of a 4-year-old who suffered a skull fracture in spite of 11 reports of possible abuse made to the hotline prior to that injury, she said.
"When staff have too much work, corners get cut, problems get missed and errors are made," Rogers said. "A skilled, stable workforce is key to delivering effective services."
Testifying on behalf of Nebraska Appleseed, Sarah Helvey also supported the bill, saying staffing among frontline child welfare workers has been a core challenge at DHHS for a number of years. High caseload levels lead to high worker turnover rates, she said, which costs the state money and delays permanency for children.
"The ongoing failure of DHHS to comply with existing statutory requirements has and continues to put children at risk of harm," Helvey said.
No one testified in opposition to LB189 and the committee took no immediate action on the bill.