Bill would delay criminal history check on job applicants
A prospective employer would be required to evaluate a job applicant's qualifications without an initial check of his or her criminal history under a bill heard by the Business and Labor Committee March 13.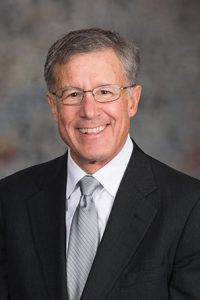 LB420, introduced by Sen. John McCollister of Omaha, would bar employers and employment agencies from asking about a job applicant's criminal history until the employer or agency determines whether the applicant meets the minimum qualifications of the position. The requirement would apply only to businesses with 15 or more employees.
McCollister said more than 1,500 cities and counties in 25 states have adopted similar proposals — often called "ban the box" laws, in reference to the box on job applications that applicants must check to indicate whether they have been convicted of a crime. He said LB420 would prevent the automatic disqualification of otherwise qualified applicants because of their criminal history.
"This would allow an applicant who may have made a mistake in his or her past to at least get a foot in the door to meet with a potential employer," he said.
Exceptions to that rule would apply if the person is applying for a job for which federal or state law requires a criminal history check. Employers or employment agencies also could ask about an applicant's criminal history if federal or state law specifically disqualifies an applicant with a criminal background or if the request is limited to the types of criminal offense that require a background check or disqualify an applicant.
McCollister brought an amendment to the hearing that would add an exemption for private and parochial schools.
If an employer or employment agency request that an applicant disclose his or her criminal history — and the applicant is still eligible for the job — the applicant must be given the chance to explain the information and the circumstances of the conviction.
Jasmine Harris of Omaha testified in support of the bill, saying that many employers are biased against those with criminal records. She was denied a full-time job because of her criminal past, she said, even though she had successfully worked in the same job for months as a temporary employee. Harris said she applied for countless jobs and eventually attained a work-study position when she applied for graduate school.
"Being denied position after position without as much as a call for an interview became disheartening, almost to a point of wanting to give up," she said.
Fran Kaye of Reentry Alliance of Nebraska also testified in support of the bill. Kaye said a person is 15 to 30 percent less likely to be employed after they have served a prison sentence. Another study found that employers are only about half as likely to call an applicant back if he or she has a criminal record and that the odds of being hired improve if the applicant has a chance to speak with the hiring manager, she said.
"LB420 gives individuals who are trying to reenter society a chance to talk to a hiring manager and to make their case for themselves, something that checking boxes on an application can never do," she said.
Also testifying in support was Lancaster County Public Defender Joe Nigro, speaking on behalf of the Nebraska Criminal Defense Attorneys Association. Getting a job is crucial for men and women who have been released from prison and who are trying to become positive and productive members of their community, he said.
"If they can't obtain gainful employment, the odds that person will engage in further criminal conduct go way up," Nigro said. "We see clients get very frustrated when they can't find work."
Testifying in opposition to the bill was Robert Hallstrom of the National Federation of Independent Business. He said LB420 would lead to more lawsuits from job applicants alleging that an employer rejected them at the final stage because of their criminal record.
Hallstrom said the bill also would delay the hiring process, which would particularly hurt small businesses. If a criminal record ultimately will disqualify an applicant, he said, then employers should have that information sooner rather than later.
"The earlier that that small business employer can know about it, the better," Hallstrom said.
The committee took no immediate action on the bill.