Electoral winner-take-all bill considered
The Government Military and Veterans Affairs Committee heard testimony March 9 on a bill that would reinstate a winner-take-all system for allocating Nebraska's presidential electoral votes.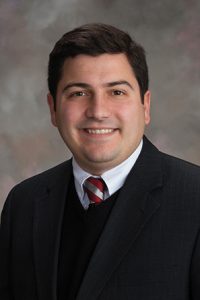 Currently, the winner of Nebraska's statewide popular vote receives two Electoral College votes. Since 1996, the state's three congressional districts also award one electoral vote each based on the popular vote winner in each district. Maine is the only other state to use this system.
LB25, introduced by Gretna Sen. John Murante, would reinstate a winner-take-all system and award all five electoral votes to the winner of the state's popular vote. Attempts in the last three legislative sessions to roll back the option to split the state's Electoral College votes have been narrowly defeated.
Murante said the time is right to finally pass a bill moving Nebraska back to a winner-take-all system, which he said better reflects the founders' intent regarding how presidents should be chosen. The founders understood that states have common interests and cultures, he said, and should speak with one voice in presidential elections.
"I believe that winner-take-all is consistent with that philosophy," he said. "In my view, the spirit of the constitution is violated with our current system."
Nebraska Secretary of State John Gale testified in support of the bill, saying winner-take-all would maximize the state's influence in presidential elections. Because Nebraska shares similar values with neighboring small states, he said, it is in voters' interest not to split their electoral votes.
"It maximizes our power in presidential elections," Gale said, adding that other states have not followed Nebraska's lead because they recognize the importance of consolidating their electoral power into a unified voice.
Kenny Zoeller, executive director of the Nebraska Republican Party, also supported the bill. Calling the current system a "political ploy" to make the state's 2nd Congressional District a swing district, he said it unfairly prioritizes a small group of voters.
"This inequality has further exacerbated the urban-rural divide within our state just for the hopes of having a presidential candidate visit Omaha once every four years" Zoeller said.
Former Lincoln public school teacher Judy Martindale testified in opposition, saying the current system is analogous to electing the state's governor by one vote from each of Nebraska's 49 legislative districts.
"From the farmlands to the city, we all should have a voice in who we want to lead our country, and we should have equal say in electing our president regardless of where we live," Martindale said.
Former state senator DiAnna Schimek, who sponsored the legislation establishing Nebraska's current system, also testified against the bill. She said the ability for a state to split its electoral votes, as Nebraska did in 2008, can serve as a "safety valve" when there are political differences between districts within a state.
"One of the main reasons that I introduced the bill is that I thought it would give people some sense of their own power," Schimek said. "It would give them a sense that their vote really did count."
The committee took no immediate action on LB25.