Medicaid expansion considered
The Health and Human Services Committee heard testimony March 8 on a bill that would authorize Medicaid expansion in Nebraska. Similar attempts in the last five years have failed to win legislative approval.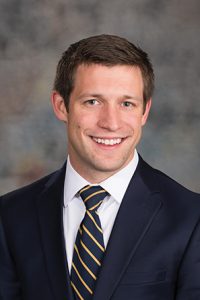 LB441, introduced by Lincoln Sen. Adam Morfeld, would require the state Department of Health and Human Services (DHHS) to amend Nebraska's Medicaid state plan to cover the newly eligible population under the Patient Protection and Affordable Care Act (ACA).
Morfeld said the bill would expand eligibility to low-income adults ages 19 to 65. The inclusion of this population would provide health coverage for uninsured childless adults earning up to 133 percent of the Federal Poverty Level. In 2016, he said, that amount for an individual was $11,880 in income per year, or $990 per month.
Additionally, he said, the bill would provide coverage to Nebraskans who fall into the "coverage gap" – those who earn too much to qualify for Medicaid, but too little to qualify for insurance premium tax credits under the ACA. Approximately 90,000 Nebraskans would benefit from the bill, he said, as people have in the 32 other states that have pursued Medicaid expansion.
"For far too long we have stalled in taking decisive action to ensure hard-working Nebraskans have affordable health care without providing any meaningful alternatives," Morfeld said. With a new plan in Congress that would allow for Medicaid expansion at current federal match rates until 2020, he said, the time to take action is now.
"We can make it work in our state, we just need to have the political courage to make it happen," Morfeld said.
The bill would require DHHS to submit a state plan amendment to provide Medicaid benefit coverage for the newly eligible group that would include all mandatory and optional coverage under the current state Medicaid plan in effect Jan. 1, 2017, and any additional wraparound benefits required under federal law.
James Goddard of Nebraska Appleseed testified in support of the bill, saying the state should take advantage of the opportunity to expand Medicaid, even if only for a few years. The future of the ACA is unclear, he said, but the need for access to health care is not.
"Right now, thousands of Nebraskans are locked out of our health care system because they fall in the Medicaid gap," Goddard said. "These are our friends and neighbors, our state's farmers and ranchers and those that work for low-wages for employers that don't provide health insurance."
Diana LaCroix of Omaha, whose husband died of pancreatic cancer five months after being diagnosed, also supported the bill. LaCroix said the couple did not qualify for Medicaid or subsidies and did not have health insurance as a result.
"If he had access to health insurance at the first sign of his symptoms, he could have gotten earlier screenings and specialized treatments," LaCroix said. "He might have survived or least had a longer lifespan."
Also testifying in support of the bill, Jordan Rasmussen of the Center for Rural Affairs said people in rural areas of the state are at a disadvantage in accessing health care due to lack of providers and other economic factors.
Many small businesses, which are prevalent in rural communities, do not offer health insurance, she said, which increases out-of-pocket costs for health coverage. As a result, she said, providers in rural areas are forced to provide uncompensated care, which threatens the viability of rural hospitals.
"This inability to access adequate health care not only places individuals in peril but also the rural communities they call home," she said. "When a hospital closes, an economic and social void is left in the community."
Calder Lynch, DHHS director of Medicaid and Long-term Care, testified in opposition to the bill on both fiscal and public policy grounds. He said that expanding Medicaid as outlined in the bill would cost Nebraska nearly $600 million in new state spending during the first 10 years — a figure that does not include funding for provider rate increases to ensure access to those newly granted coverage.
In addition, he said, new enrollees would be matched at a federal rate of roughly 90 percent, while current Medicaid recipients are funded at a significantly lower match rate. This would create an imbalance in how federal resources are applied toward caring for the most vulnerable Nebraskans, he said.
"I believe that it would be more prudent for the state to continue participating in the national conversation regarding the plans for repeal and replacement of the ACA and then make decisions about making changes to the program after we have a clear picture of the path ahead," Lynch said.
The committee took no immediate action on LB441.