Bill would continue student tech funding
A program designed to provide information technology (IT) skills to Nebraska high school and community college students would receive continued funding under a bill heard March 7 by the Appropriations Committee.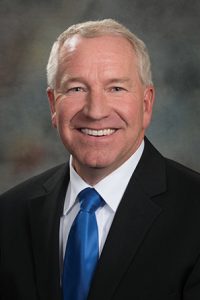 LB465, introduced by Syracuse Sen. Dan Watermeier, would appropriate $500,000 in fiscal year 2017-18 and FY2018-19 to the state Department of Education for the Nebraska Information and Technology Initiative.
Watermeier said the initiative — which is a public/private partnership between the department, Nebraska Career and Technical Education, Microsoft and Certiport — began as a pilot project in 2014 to enhance IT skills in Nebraska schools.
Currently 85 Nebraska high schools and 12 community colleges participate in the initiative, he said, with a waiting list of schools wishing to join. He said LB465 is necessary to make sure that the momentum for IT skill acquisition among Nebraska students and teachers does not come to a halt.
"The number of students receiving certificates in programs like Word, PowerPoint, Excel and Access has tripled from year one to two [of the program] and we are on pace to do the same this year," Watermeier said. "The IT initiative has already made a major impact on students and teachers in its short lifespan."
Ricardo Diaz, a Hastings High School student who has earned four IT certifications, testified in support of the bill. Earning his first certification inspired him to enroll in a technology fundamentals class, he said, which provided more advanced insight into computer science.
"Earning these certifications was like a spark for me," Diaz said. "This has really opened my eyes and I know that I have been equipped with a good, solid set of skills and now have the foundation to be successful with whatever I decide to pursue."
Terri Teideman, testifying on behalf of Southeast Community College, also supported the bill. Teideman said that as a computer applications instructor for 35 years, she believed such a course eventually would become obsolete because students would know how to use computer applications. However, she said, many high school graduates in Nebraska today do not know how to attach a file to an email.
"All jobs require a knowledge of technology and applications," Teideman said. "Employers expect graduates to be technology literate. If we want to promote Nebraska as the Silicon Valley of the plains, we need to make sure that students at all levels of education have the very best technology skills possible."
No one testified against LB465 and the committee took no immediate action on the bill.