Workers' comp reimbursement bill stalls
A bill that would require employers to cover the cost of a second medical opinion for employees' work-related injuries was bracketed March 6, making it unlikely to be debated again this session.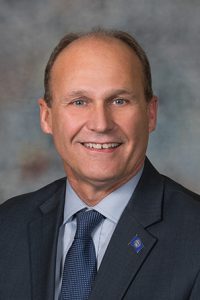 An employee filing a workers' compensation claim currently must submit to a medical exam by a physician chosen by the employer or its insurer. Under LB181, introduced by Grand Island Sen. Dan Quick, an employee that disputed the initial medical findings could seek a second opinion from a physician of the employee's choice.
The employee would be reimbursed for the associated costs of the second examination by either the employer or its insurer.
Quick said he was injured on the job and was told he must return to work while still taking prescribed narcotics. He said he could have sought a second opinion but would have had to pay for it himself.
"This bill may not solve all the problems but it's a start to try and create a level playing field to allow employees to recover with dignity," he said.
Bellevue Sen. Carol Blood supported the bill, saying it is in the best interests of employers to ensure the health and well-being of the people who keep their business running.
"Both the business and the employee benefit if the employee is well and physically able to do the job," she said. "If the employee is hurt at work and unable to get the care, how does that benefit anybody?"
Sen. John Kuehn of Heartwell opposed the bill. He said LB181 is unnecessary because employees already can use a personal physician for the initial visit, if the employee has an established relationship with the physician. Implying that a physician chosen by an employer would provide inherently biased medical information is unfair, Kuehn said.
"Physicians, regardless of who they're employed by, still have to meet their statutory guidelines set forth by scope of practice statutes," he said. "We have dedicated health care professionals in all areas who are working and treating patients on the job and their first and foremost concern is the standard of care for the patient."
Quick filed a motion to bracket the bill by unanimous consent until Jan. 10, 2018. The body obliged.
The motion effectively ends debate on LB181 for the 2017 session.