Stronger protections proposed for child depositions
Additional considerations would be made for children involved in criminal court cases under a bill heard by the Judiciary Committee March 2.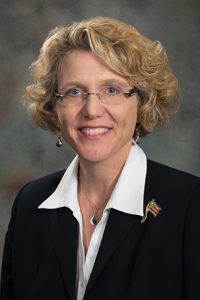 Under LB589, introduced by Bellevue Sen. Sue Crawford, no deposition of a child would be granted if a video-recorded forensic interview has been conducted by an accredited child advocacy center, unless the deposition would aid in the disclosure of evidence vital to a defendant's case.
Crawford said the bill shifts the burden of proof to the defense attorney requesting a deposition of a child. LB589 does not prohibit depositions from taking place, but it does allow for greater protection of the child's physical and mental health, she said.
The judge granting the deposition would be required to implement any protective measures to shield the child from harm or distress, harassment or intimidation. Such measures could include designating a specific time and location for the deposition to take place, limiting the scope of the deposition, providing a victim advocate or guardian ad litem, physically excluding the defendant from the deposition or any other reasonable protection for the child.
Dan Salvo-McGinn, an assistant county attorney for Pottawattamie County, supported the bill, saying a forensic interview is far less detrimental to a child and could yield better results than a deposition.
"With depositions, the key in interviewing a child is to establish a rapport with the child and that rarely happens in a deposition," he said. "The rapport is always there in a forensic interview because the child is in a comfortable room and [the interviewer] can freely get the information."
Nebraska CASA Executive Director Corrie Kielty also testified in support of the bill. She said the well-being of children must take precedence when preparing someone for trial. Depositions can be stressful for any person, she said, let alone a young child who may have experienced physical and emotional trauma.
"It is essential that the courts work to provide a safe environment and do everything possible to not re-victimize children," Kielty said. "There is no reason to risk re-traumatization of child victims for a deposition."
Christopher Lathrop, representing the Nebraska Criminal Defense Attorneys Association, opposed the bill. He said it would figuratively handcuff attorneys and make it difficult to adequately represent their clients.
"This bill is a direct assault on the integrity of the system," he said, adding that it is unfair to give the prosecution unlimited access to a child to prepare for trial while limiting access to the defense.
The committee took no immediate action on the bill.