Liability insurance on oil and gas wells discussed
Oil and gas companies would be required to carry liability insurance on certain types of wells under a bill heard by the Natural Resources Committee March 2.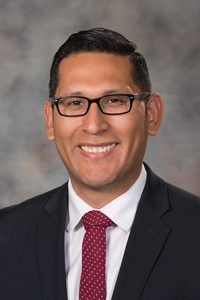 LB533, introduced by Sen. Tony Vargas of Omaha, would require proof of at least $5 million in liability insurance before the Nebraska Oil and Gas Conservation Commission could issue a permit for the drilling of an underground enhanced recovery injection well or wastewater disposal well.
Commercial disposal facilities that dispose of injection well wastewater also would be required to provide proof of at least $5 million in liability insurance.
Additionally, LB533 would prohibit the issuance of permits for the drilling of an enhanced recovery injection well or a wastewater disposal well if the proposed well would be located in the Nebraska Sandhills or an area where the drinking water aquifer lies within 50 feet of the surface.
Vargas said the state should protect itself against the financial burden caused by accidental pollution from oil and gas drilling. He acknowledged that no such accidents have yet occurred.
"The state, local governments and — even more importantly — taxpayers simply cannot afford to be on the hook for an accident that could cost millions to clean up," he said. "That financial burden should be carried by a private company conducting the activity."
James Cavanaugh of the Nebraska chapter of the Sierra Club testified in support of the bill. Insurance policies covering general liability for accidental pollution are available today, Cavanaugh said, and many states now require oil and gas companies to carry liability insurance. He said such insurance should be required of companies that are pumping liquids into the ground near the Ogallala aquifer.
"Why does the state require us by statute to have insurance on our car … but it doesn't require by statute for us to have the same liability protections for the largest freshwater aquifer in North America?"
Chelsea Johnson of the Nebraska League of Conservation Voters also testified in support of the bill. Most drilling companies carry general liability insurance that protects them from bodily injury and property damage claims, she said, and Ohio passed a law in 2012 requiring oil and gas companies to carry at least $1 million in such coverage.
"However, environmental exclusions and other limitations placed on such policies mean other types of coverage need to be in place to protect fully against environmental and seismic claims," she said.
Testifying in opposition to the bill was Chris Peterson of the Nebraska Petroleum Producers Association. He said the oil and gas industry in Nebraska is well-regulated and paid approximately $2.9 million in severance tax in 2015, most of which went to funding public schools. He said the bill is unnecessary because it seeks to protect against something that has never happened.
"There has been no known environmental contamination of drinking water in the decades that oil and gas producers have been operating within Nebraska," he said.
Dana Wreath of Berexco, a Nebraska oil company, also testified in opposition to the bill, saying that none of the eight states in which the company operates requires liability insurance. Wreath said operators have been drilling injection wells in Nebraska for more than 60 years without incident. The wells' mechanical design, which includes multiple steel pipes and concrete casings, makes them inherently safe against leaks, he added.
"Disposal and injection wells are essential for oil production to continue in this state," he said. "LB533 would effectively ban the oil and gas industry from being able to operate in the western two-thirds of the state."
Bill Sydow, director of the Oil and Gas Conservation Commission, provided neutral testimony on the bill. He said the commission requires companies or individuals to post a surety bond of $100,000 for each well up to 10 wells. If the operator does not plug and clean up those wells when it shuts them down, the commission can garnish those funds to do the job.
"Honestly, [LB]533 is unnecessary," Sydow said.
The committee took no immediate action on the bill.