Moratorium on Sandhills wind energy projects proposed
The Natural Resources Committee heard testimony March 1 on a bill that would place a two-year moratorium on wind energy development in the Nebraska Sandhills.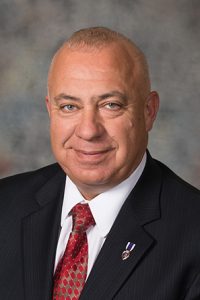 LB504, introduced by Sen. Tom Brewer of Gordon, would create a task force to study and make recommendations to the Legislature regarding the siting of wind energy projects in the Sandhills, a sand dune formation in north-central Nebraska that covers approximately 19,000 square miles. The moratorium on industrial development of wind energy projects and the placement of turbines in the region would begin Jan. 1, 2018.
Brewer said the bill is neither for nor against wind energy development.
"The reason I introduced this bill is to try and do something to heal the communities of my district," he said. "Commercial wind energy development in the Sandhills is tearing the communities apart."
Brewer said the issue is too complex and its effects too far-reaching to be left to individual counties to address. The bill is intended to pause development and create a nonpartisan venue through which all voices on each side of the debate can be heard, he said.
"This rush to build has made the loudest voices in this argument those that have the deepest pockets," Brewer said. "I think ordinary Nebraskans are not being heard."
Wayne Eatinger, a Cherry County resident, testified in support of the bill. He said the moratorium and task force would help ease the bitterness among the county's residents over wind energy development, including a proposed 30-turbine wind farm near Kilgore.
"If this wind development is the thing to do, it'll be the thing to do a couple of years from now." Eatinger said. "The Sandhills deserve special accordance and special consideration."
George Cunningham, conservation chair of the Nebraska chapter of the Sierra Club, also testified in support of the bill. He said the Sierra Club supports the development of wind energy, as long as it is properly sited. The Sandhills is one of the largest grass-stabilized dune regions in the world, Cunningham said, with abundant surface water and groundwater and high wildlife diversity. Building industrial infrastructure such as energy facilities and transmission lines in the region would be inappropriate, he said.
Cunningham said Nebraska's wind energy needs can be met by placing wind farms on existing converted lands, including approximately 16 million acres that have been converted to row crop agriculture.
"We see no need to place energy development facilities on native grasslands, river bluff lands or near wetland complexes," he said.
Testifying in opposition to the bill was Bree DeNaeyer, a Cherry County landowner and a member of Cherry County Wind, a group of landowners working to develop wind energy projects on their land. Wind energy development in the area is a contentious issue, DeNaeyer said, but the county zoning board already has in place some of the strictest wind energy regulations in the country.
"Our local zoning, planning and commissioner boards — in Cherry County specifically — have had the pulse on and are hearing what is best for our area and are actively enacting regulations to reflect the will of our local citizens," she said.
DeNaeyer said the moratorium would appease only one side of the debate and would penalize landowners who have voluntarily agreed to allow wind energy systems to be built on their land.
"The chaotic environment pitting neighbor versus neighbor is very accurate, but I don't believe it's something that can be legislated against," she said. "We're not going to be mollified by state laws or a two-year ban — it simply would kick the can down the road."
Tom Budler, president of BHE Wind, also testified in opposition to the bill. He said BHE completed the 400-megawatt Grande Prairie Wind Farm in Holt County last year, a project that will generate approximately $2.5 million in landowner lease payments and an additional $2 million in new property tax revenue annually. He said Omaha Public Power District has issued a request for proposal for another 450 megawatts of renewable energy.
"A two-year moratorium on any wind development in the Sandhills could definitely hamper Omaha Public Power District's efforts to deliver low-cost, renewable energy to its ratepayers and our ability to further invest in the state," Budler said. "More generally, it would send the message that Nebraska is not open for the business of wind development and would encourage us and other likely developers to focus our financial resources in other states."
The committee took no immediate action on the bill.