Bill would extend school permits to young city drivers
Young drivers could apply for school driving permits regardless of geography under a bill heard by the Transportation and Telecommunication Committee Feb. 28.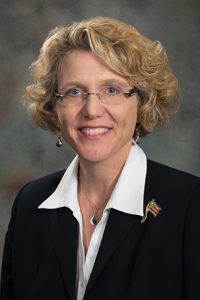 Currently, school permits are available to young drivers — those older than 14 years and 2 months and younger than 16 years and 3 months — who live in cities of the second class and villages. Holders of these permits may drive directly to school and school-sponsored activities only.
LB587, introduced by Bellevue Sen. Sue Crawford, would extend eligibility for school permits to young drivers across the state, regardless of city size. She said many students living in cities have an equally difficult time getting to school safely. Many streets in Omaha pose a barrier to students walking or biking to school safely, Crawford said, due in large part to heavy traffic, crime and a lack of safe sidewalks.
"I had a constituent ask me why there is an ability for students who live in rural parts of the state to have the availability to have driving privileges that are unavailable to students in cities of the metropolitan, primary and first class," she said. "Providing school permits to both rural and urban students would ensure every student that meets the training requirements under state law could get to school and school activities safely."
Bellevue resident Tim Barner testified in support of the bill. He said his two daughters attended a private school that offered no bus service. There was no option other than driving them to and from school every day, Barner said, often during peak commute and work hours.
"We made the effort because we thought it was important for them to participate in activities," he said. "It certainly would have helped if one of them could have obtained a permit, but we couldn't because we lived in town."
Laurie Klosterboer, executive director of the Nebraska Safety Council, opposed the bill. She said inexperienced teen drivers often exhibit high levels of immaturity that can lead to high-risk behaviors like speeding or texting while driving. In Nebraska, drivers aged 15-24 were involved in 27.8 percent of traffic crashes — the highest percentage of any age group, Klosterboer said.
"If this passes, we will be taking a giant step backwards with everything that we've gained with our graduated driver licensing law," she said. "This [would] increase the number of teens we have behind the wheel getting injured or killed in traffic crashes."
The committee took no immediate action on the bill.