Bill would eliminate waiting period for voting rights
The Government, Military and Veterans Affairs Committee heard testimony March 1 on a bill that would restore voting rights upon completion of a felony sentence or probation. Current law requires a two-year waiting period.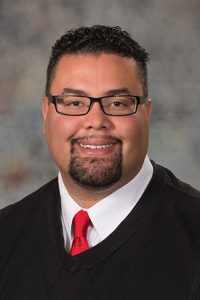 Omaha Sen. Justin Wayne, sponsor of LB75, said the two-year waiting period is outdated and unnecessary. Almost all felons now are subject to supervised release, he said, so they already experience a period of time post-incarceration in which they are not allowed to vote. Extending that period by two years is unfair and disproportionally impacts minority communities, he said.
"[Voting] is one of our most fundamental rights and one of the most basic tenets of our democratic process," Wayne said. "We can send a message that we're no longer going to disenfranchise people."
Former state senator DiAnna Schimek of Lincoln testified in support of the bill. Prior to 2005, she said, ex-felons in Nebraska had to go before the state's pardons board in order to have their right to vote reinstated. The two-year waiting period was attached to the bill that automatically restored the right to vote in a pragmatic effort to help ensure its passage, she said.
In the intervening years, Schimek said, it's been shown that people who vote after they are released from prison are less likely to reoffend.
"As a matter of public safety the state should encourage full political participation," she said. "There is an easy fix — eliminate the two-year waiting period so an individual's right to vote is restored immediately upon release."
Danielle Conrad, testifying on behalf of ACLU of Nebraska, also supported the bill. Restrictions on voting for ex-felons serve to silence the political voice of minority populations, she said. For example, she said, while only 10 percent of the state's population identify as members of a racial or ethnic minority, they comprise more than 40 percent of the incarcerated population.
In addition, Conrad said, Nebraska has one of the most overcrowded prison systems in the country. The more deeply an ex-felon can connect to his or her community, the less likely they are to return to prison, she said, and voting is one of those connections.
"If we can shave off even just a few percentage points on that recidivism rate, it has a significant impact on overcrowding," Conrad said.
Shakur Abdullah, a case manager at ReConnect Inc., a prison reentry initiative in Omaha, said he has never voted. Testifying in support of the bill, Abdullah said he was released from prison a year ago after serving a decades-long sentence for a crime he committed as a juvenile.
The two-year waiting period makes him a "second-class citizen," Abdullah said, adding that more than 7,000 people in Nebraska have completed their sentence but cannot vote.
"I served my sentence, every day of it, yet that fact hasn't placed me on par or on square with other citizens," he said. "[Yet] I'm taxed like every other citizen in the state. Taxation without representation – that is the status that I am in."
No one testified in opposition to LB75 and the committee took no immediate action on it.