Mental health benefits sought for frontline state employees
State employees could receive workers' compensation benefits for mental health injuries under a bill heard by the Business and Labor Committee Feb. 27.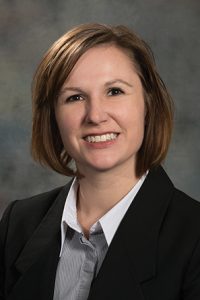 LB244, introduced by Lincoln Sen. Kate Bolz, would extend benefits to employees of the state Department of Correctional Services or Department of Health and Human Services who regularly and directly interact with high-risk individuals.
The bill defines a high-risk individual as someone in state custody with a history of violent or physically intimidating behavior, including a committed offender, regional center patient and a committed juvenile offender.
Such benefits currently are provided to first responders.
Bolz said frontline staff members experience physical and emotional trauma through the natural course of their work duties. She said she does not expect to see frequent claims under the bill, considering only 21 claims have been filed by first responders since 2010.
"Staff who experience traumatic events may develop post-traumatic stress disorder or other psychological injuries," she said. "Passing LB244 ensures that staff who experience trauma are able to receive the treatment they need."
Mike Marvin, executive director of the Nebraska Association of Public Employees, testified in support of the bill, saying a lack of mental health support has led to high rates of employee turnover. The increased news coverage of assaults on correctional employees is new, he said, but the assaults are not.
"Not providing mental health treatment to these employees leads to many problems — not just for the employee, but also the agency," Marvin said. "It is time to stand up and support these employees and everything we ask of them."
Kasie Livezey, an employee of the Tecumseh State Correctional Institution, also supported the bill. She was physically assaulted while working at the institution in September 2015. She said she has coworkers who have suffered trauma from receiving daily threats from inmates.
"The employee assistance program is not enough. It sometimes helps, but it's not the same as having the help you need within the walls of the institution," she said. "If we're to help rehabilitate these high-risk individuals for reentry into society, we need to have [mentally] strong employees."
No one testified in opposition to the bill and the committee took no immediate action on it.