"Choose life" license plates advanced after cloture
After more than four hours of general file debate spanning several days, senators advanced a bill Feb. 28 that would require the state Department of Motor Vehicles to design "choose life" license plates.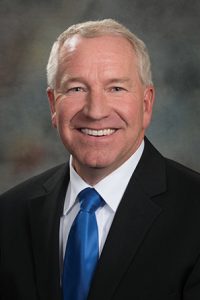 Under LB46, introduced by Syracuse Sen. Dan Watermeier, the plates would be available for an additional $5 for an alphanumeric plate or $40 for a personalized message plate. Watermeier said 29 states currently offer the option of "choose life" license plates.
"The designs would reflect support for the protection of Nebraska's children," he said. "We should join these other states to show our support for pregnant women and unborn children."
Watermeier introduced an amendment, adopted 38-0, that would direct 75 percent of the plate fees to the state Department of Health and Human Services' Temporary Assistance for Needy Families program.
Bellevue Sen. Carol Blood supported the amendment and bill, saying the Legislature had established precedent for allowing specialized message license plates.
"Now that that gate is open," she said, "whether you support this cause or not, I truly believe this is about freedom of speech."
Lincoln Sen. Adam Morfeld introduced an amendment that would replace "choose life" with "stop child abuse" license plates. He said the specialized plates that previously have been issued have been fairly uncontroversial. The bill, if passed, would set a dangerous precedent, Morfeld said.
"It concerns me that we are essentially giving the stamp of the state on a controversial, divisive issue and it goes on a state-issued license plate," he said. "If we are going to have political statements on state license plates, then we should be able to avail our citizens of both arguments and both sides of the debate."
Sen. Mike Hilgers of Lincoln disagreed with Morfeld's assessment. He said two recent U.S. Supreme Court decisions have supported the authority of state legislatures to issue specialized license plates such as those proposed under the bill.
"[The Supreme Court] found that the government can allow, through legislatures, certain types of speech and discriminate against other types of speech," Hilgers said. "We can choose certain types of speech we want to allow on license plates and the check on that power is the democratic process."
The Morfeld amendment failed 5-31.
Omaha Sen. Ernie Chambers filed several motions and amendments in an effort to delay a vote on the bill. He said when he first came to the Legislature, he originally opposed all specialty plates because license plates are intended to merely identify the owner of a car. During his four years away from the Legislature, however, a new precedent was set to allow for a variety of specialty plates, he said.
Chambers said he opposed the "choose life" plate specifically because it represents an official endorsement of a controversial position by the state.
"[LB46] chooses sides on a very contentious issue and we all know what that issue is," he said.
After more than four hours of debate, Watermeier filed a motion to invoke cloture, or cease debate and vote on the bill. The motion prevailed 36-6.
Senators then voted 37-7 to advance the bill to select file.