Behavioral health recruitment funds sought
The Appropriations Committee heard testimony Feb. 27 on a bill that would provide funding for recruitment of behavioral health professionals.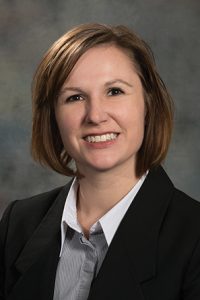 LB242, introduced by Lincoln Sen. Kate Bolz, would appropriate $598,803 in each of the next two fiscal years to the University of Nebraska. The funds would be used to develop and offer clinical rotations at correctional facilities, in partnership with the state Department of Correctional Services, for students studying to become behavioral health professionals.
Funds would provide stipends, clinical supervision, coordination and other recruitment services. The Board of Regents would be required to include a report on the outcome of the recruitment efforts with its annual budget requests in 2020 and 2022.
Bolz said the bill was the result of the Department of Correctional Services Special Investigative Committee's work. One recommendation from the committee was to design and implement a behavioral health workforce and training program, she said.
"One of the issues that continues to plague the department is workforce development," Bolz said. "Recruitment and retention in general, but particularly among the behavioral and mental health staff."
In addition, she said, staff shortages in vital mental health positions mean that inmates may not get the help they need. The result is that inmates have difficulty completing required programing, which in turn exacerbates overcrowding, she said.
Martin Wetzel, a psychiatry professor at Creighton University and the University of Nebraska Medical Center, testified in support of the bill. Correctional institutions provide a unique opportunity for students to learn to provide services in an outpatient setting, he said.
"In medical education the presence of a student, the instructor and patient all together at the same time is the bedrock of our profession," Wetzel said.
Spencer Gallner, a resident at the Creighton-Nebraska Psychiatry Residency Training Program, also supported the bill. Having done rotations at the Lincoln Correctional Center and the Lincoln Regional Center, Gallner said he now is considering practicing in the correctional field and has encouraged other students to do the same.
"[The bill] would provide additional training and supervision opportunities for mental health students with a desire to work in correctional settings," he said.
Testifying in a neutral capacity, Brent Khan said the bill would help the state Department of Correctional Services address the behavioral health needs of their population while enhancing public safety.
Khan, co-director of the Behavioral Health Education Center of Nebraska, said the entity has developed a program for onsite training at Nebraska correctional facilities, which would be implemented with the bill's funding.
"This is a model program that, if implemented, would provide opportunities for well-qualified mental health providers to stay in Nebraska," he said.
No one testified in opposition to LB242 and the committee took no immediate action on it.