Intergovernmental wastewater agreements proposed
Local government entities, in coordination with their respective counties, could band together to fund a regional wastewater system under a bill heard by the Revenue Committee Feb. 24.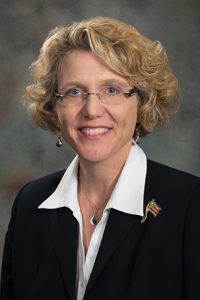 Current law allows cities, in cooperation with their counties, to enter into agreements for joint action on the planning, construction, management, operation and financing of sewerage disposal systems. Under LB253, introduced by Sen. Sue Crawford of Bellevue, villages and sanitary improvement districts (SIDs) also could join those agreements.
The bill would allow a county and any city, village or SID to enter into a service agreement for a sewerage project with certain joint entities or joint public agencies.
It also would authorize any county, city, village or SID to make payments on a service agreement by levying a special tax on property within that entity. The tax would have the same status as a tax levied for the purpose of paying bonds secured by a levy.
Crawford said she introduced the bill on behalf of the Sarpy County Board of Commissioners so that the county and its cities could build a regional wastewater system to support development there.
"Regional sewer systems can help counties avoid the proliferation of individual or community sewerage systems as they expand into areas with minimal sewer infrastructure," she said.
Don Kelly, chairman of the Sarpy County board of commissioners, testified in support of the bill, saying that it would allow the county and its cities to build a regional sewerage system that they could not afford individually. With the growth of the Omaha metro area, much of the county's land available for development sits south of a ridgeline dividing the county, he said. That area currently is not served by a regional system, slowing development along the Highway 50 corridor.
"Without addressing the issues of sewerage south of the ridgeline, the ability to continue this momentum is limited," Kelly said.
David Black, mayor of Papillion, testified in support of the bill on behalf of the United Cities of Sarpy County. He said Sarpy County's population is projected to grow by 140,000 people over the next 30 years. About 60 percent of those people would be served by the proposed sewerage system in the southern part of the county. Black said development in that area could result in 18,000 jobs and an additional $45 million in state sales tax revenue annually.
"We've had 10 years of cooperation with the other cities in the county trying to figure this out," he said. "We're at a critical point of development."
David Dechant of HDR, which is managing the project, also testified in support of the bill. He said the project, expected to cost approximately $220 million, will be built in phases over the next 30 to 40 years depending on growth. Connection and development fees and sewer fees will help pay for the system over time, Dechant said, but LB253 is needed so that the county and cities can pool their bonding authority to pay for startup costs.
"While not without challenges, the proposed regional system is technically and financially feasible based on multiple regional systems that I've been involved with over the years," he said.
No one testified in opposition to the bill and the committee took no immediate action on it.