Two additional juvenile court judges advanced
A bill that would increase the number of juvenile court judges in Omaha by two was advanced from general file Feb. 23.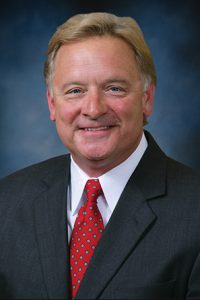 LB10, introduced by Omaha Sen. Bob Krist, initially would have added one juvenile court judge in counties with populations of at least 400,000 people. Douglas County currently is the only county with at least 400,000 residents.
Krist said the five juvenile judges currently serving Douglas County carry an average workload of 253 cases each.
"This bill is based on the recommendation of the Nebraska Judicial Resources Commission and it is past time we listen to them," he said. "It's important to the children and families of the Omaha area."
A Judiciary Committee amendment proposed that two judges be added instead of one. Crete Sen. Laura Ebke, chairperson of the committee, said the amendment would double the cost of implementing LB10, but the expense is necessary to address the mounting caseloads in Douglas County.
"[Douglas County] routinely has more cases per judge than other counties with separate juvenile courts," she said. "The addition of two judges will better serve the interests of juveniles in the court system."
Sen. Patty Pansing Brooks of Lincoln supported the amendment, saying the bill's cost pales in comparison to the money being spent on long detentions for juveniles awaiting court dates.
"Kids are being detained due to a lack of judicial resources," Pansing Brooks said. "Clearly the delays have ramifications on our court systems and on our kids in the juvenile justice system. Justice delayed is justice denied."
Omaha Sen. Justin Wayne opposed the committee amendment but supported the underlying bill. Douglas County needs an additional judge, he said, but adding more judges does not address the real problems affecting juveniles in the court system.
"The issue is how we prosecute minority students and young people," Wayne said. "If we start adding more judges, that encourages prosecutors to send more kids through the system."
Opposing the increased funding that would be required under the amended bill, Sen. Mike Groene of North Platte said resources would have to be redirected from other programs. In a year when the state already is facing a $900 million budget deficit, transferring money from state aid to schools or a similar fund would be irresponsible, he said.
Senators adopted the amendment 26-18 and voted 33-10 to advance the bill to select file.