Community solar project grants proposed
Nebraska communities could apply for a state grant to build solar energy projects under a bill heard by the Natural Resources Committee Feb. 22.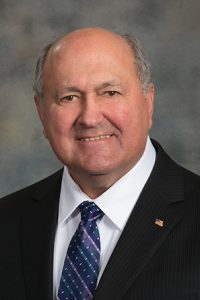 LB610, sponsored by Omaha Sen. Rick Kolowski, would allow public power districts, nonprofit organizations or political subdivisions to apply for grants from the Nebraska Environmental Trust to help pay for community solar projects. The grants would cover up to 25 percent of a project's cost.
Kolowski said Lincoln Electric System's community solar facility is a good example of a project that could be built using the proposed grants.
"Solar projects can keep energy dollars in Nebraska, provide jobs and solar power, and can be easily scaled to the desired need and provide power at peak times," he said.
A community solar project would be defined as a solar electric generation facility that has an agreement to sell its electricity to an electric utility or political subdivision and allows subscribers to receive bill credits in proportion to the amount of energy they generate.
Laverne Thraen of Omaha testified in support of the bill. He said building more private solar generating facilities would benefit the state by allowing public utilities to shut down coal-fired and nuclear plants that pollute the state's land and rivers. Utilities then could focus on maintaining the state's electric grid and customers could choose to buy electricity from cleaner sources.
"The solution moving forward is getting our public utilities out of generating power because they've done a very poor job of it for 50 years," he said.
Testifying in opposition to the bill was Dan Schmid of Dwight. He said the Nebraska Environmental Trust was established to conserve the state's environment, including its air, land and water.
"I believe extracting funds from this trust for solar power development violates the original intent of this Nebraska statute," he said.
Kristen Gottschalk, testifying on behalf of the Nebraska Rural Electric Association, provided neutral testimony. She said LB610, as written, would allow community solar projects to sell electricity to political subdivisions when only public utilities currently are allowed to sell electricity in the state.
The committee took no immediate action on the bill.