Graduated accountability for juvenile probationers advanced
Lawmakers give first-round approval Feb. 23 to a bill that would change how violations of juvenile probation terms are addressed.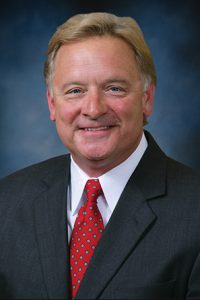 LB8, introduced by Omaha Sen. Bob Krist, would authorize the Office of Probation Administration to develop a statewide matrix of immediate, certain and consistent sanctions for violations of court orders.
Krist said the bill continues the work of creating a Nebraska juvenile justice system built on common-sense practices that put youth on a path to success.
"Nationwide and in Nebraska, youth sit in detention centers for minor probation violations," he said. "[LB8] does what we need to do to put these youths who have fallen into the system and gives them the opportunity to succeed."
A probation violation would be considered resolved upon a juvenile's successful completion of the sanction. Failure to complete a sanction could result in repetition or increased duration of the sanction, or an entirely new sanction.
The matrix also would include a series of graduated incentives to promote compliance and positive behaviors for juvenile probationers. Records of incentives for each youth would be available to the individual's attorney and the county attorney upon request.
LB8 would retain a probation officer's authority to file a motion to revoke probation in case of continued failure to complete sanctions or new law violations. It also would allow for detention of an individual if he or she is deemed a safety risk.
Bellevue Sen. Carol Blood supported the bill, saying a graduated system of accountability is appropriate for young offenders. If they are not given the opportunity for rehabilitation, she said, they will fall into a cycle of recidivism that ultimately leads to incarceration in the adult correctional system.
"This gives those children the opportunity to step up to the plate and work on being good citizens, work on their issues and show their probation officers and communities that they want to do well," she said.
Senators advanced the bill to select file on a 37-0 vote.