Bill allowing private electric retailers considered
The Natural Resources Committee heard testimony Feb. 16 on a bill that would allow private electricity companies to sell power to Nebraska customers.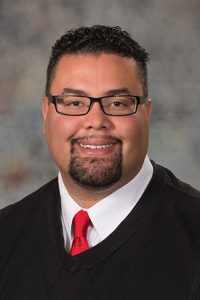 LB660, sponsored by Sen. Justin Wayne of Omaha, would authorize private electric suppliers to sell electricity in Nebraska beginning in July 2018. It also would require the Public Service Commission to establish criteria for retail electric competition in Nebraska by holding a series of public hearings across the state.
Wayne said the electricity market has changed significantly in the last few years because of Nebraska's entry into the Southwest Power Pool (SPP), a group of utilities, power generation and transmission companies that oversees electricity infrastructure in 14 states.
Electricity is now a commodity bought and sold on the market, Wayne said, and the SPP determines which generating sites to draw from depending on demand and which form of energy is cheapest. This means that Nebraska's coal-fired plants could sit idle more often, forcing public utilities to increase their rates to cover fixed operating costs. The state's electric rates have increased 20 percent since 2008, he said.
Wayne said LB660 is meant to start a conversation in the Legislature about the future of public power in the state so that Nebraska's ratepayers and taxpayers are not paying unnecessary costs.
"The market has clearly changed," he said. "Our customer rates are not as competitive as they used to be."
Philip Young of Americans for Electricity Choice testified in support of the bill. He said electricity service has become an emotional issue for many Nebraskans because they believe the state relies 100 percent on public power. But since Nebraska joined the SPP, the state receives electricity generated from sites across the region. Allowing private retailers to sell electricity in the state would benefit Nebraskans without damaging the state's public power system, Young said.
"The lines, wires and reliability Nebraskans expect will still be there with retail choice," he said, "and the SPP will make sure the electricity is always there when you need it."
Darrin Pfannenstiel, president of the Retail Energy Supply Association, also testified in support. He said more than 16.4 million Americans in several states benefit from the cost savings and improvements to the grid that electric retail choice can bring.
"Competition delivers choice," he said. "It delivers renewable products and innovation."
Testifying in opposition to the bill was Robert Hanson, founder and COO of Monolith Materials, which is building a plant in Hallam to produce carbon black and hydrogen. When the plant is completed, Hanson said, it will use 5 percent of the state's electricity demand, similar to the city of Lincoln. The company chose to build the plant in Nebraska because of the state's low electricity rates and stable market.
"We should be very deliberate prior to making anything that would shift a stable electric industry," he said, "and I would really challenge the proponents to this bill to show how it would save consumers money."
John McClure, speaking on behalf of the Nebraska Power Association, also testified in opposition. He said states with high electric rates that have adopted retail choice continue to have high costs.
Retail choice also could result in stranded assets, McClure said. Nebraska utilities have made long-term investments in power generation and transmission infrastructure to serve their customers. If the Legislature allows private retailers to enter the market and draw those customers away, he said, existing utilities would not be able to cover those costs.
"If the rules are going to change, who are going to be the winners and who are going to be the losers?" McClure said.
Troy Bredenkamp, speaking on behalf of the Nebraska Rural Electric Association, also spoke in opposition to LB660. He said Nebraska's average residential electric rate is 10.7 cents per kilowatt-hour, 31 percent less than states with retail choice. Nebraska's rates increased 46.7 percent between 2006 and 2015, Bredenkamp said, dropping the state's national ranking to 15th best from sixth best.
"While public power is not satisfied with that rate increase … a top 15 ranking is still very respectable."
Gary Hedman, who serves on the board of Southern Power District, also testified in opposition to the bill. He said public utilities provide local control and transparency because they are composed of representatives elected to act in their customers' best interest.
"Having a reliable source that plans for long-range power supply for our customers and is not motivated by earnings per share of a stockholder gives us the best chance of a balance of reliability, dependability, responsiveness, [and] reasonable cost," Hedman said.
The committee took no immediate action on the bill.