Overtime limits proposed for Correctional staff
Limiting the amount of overtime state Department of Correctional Services staff members are required to work was the focus of a bill heard by the Judiciary Committee Feb. 16.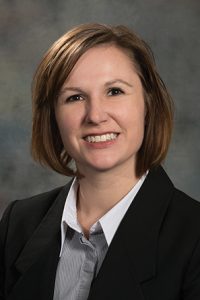 Under LB245, introduced by Lincoln Sen. Kate Bolz, correctional employees only could work 32 hours of overtime over any two-week period. Employees would be required to have eight consecutive hours off from work between scheduled shifts.
Bolz said monthly overtime hours worked by correctional employees has doubled from 20,000 to 40,000 since 2014.
"When employees are not rested or are forced to work overtime when they're exhausted, the chances that they'll make a mistake or affect the safety of their colleagues or inmates increase," she said. "A safe environment means sufficient staffing [levels], well-trained officers and well-rested officers."
The bill would prohibit any adverse action against an employee who refuses to volunteer for additional overtime. Adverse action would include, but is not limited to: termination, demotion or an involuntary transfer from one correctional facility to another.
The director of Correctional Services could suspend the overtime provisions proposed in LB245 in the event of a corrections-related emergency, such as a fire, riot or prisoner escape. The suspension could last up to two weeks or until the emergency order is rescinded, whichever occurs first.
The proposed overtime limits would take effect July 1, 2018.
Jim Maguire, representing the Nebraska Fraternal Order of Police, testified in support of the bill. He said correctional officers he has consulted prioritize concerns about mandatory overtime ahead of adequate pay and safety issues.
"I don't know whether or not the magic number is 32 hours, but the amount of forced overtime has to be addressed," he said. "I do know that working four or five days of mandatory double shifts in a row is absolutely excessive."
Scott Frakes, director of the department, opposed the measure. High levels of overtime absolutely is a problem, he said, but LB245 would not adequately address the root cause of the issue.
"[High levels of] overtime is a symptom of the recruitment and retention issues faced by the department," Frakes said. "We already are working hard to address those issues through a combination of efforts involving the collective bargaining process and retention initiatives, among others."
The committee took no immediate action on the bill.