Tourism commission restructure recommended
The Government, Military and Veterans Affairs Committee heard testimony Feb. 8 on a bill that would revamp the Nebraska Tourism Commission.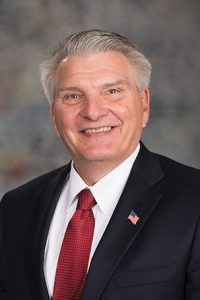 LB222, introduced by Gering Sen. John Stinner, would expand the commission's membership from nine to 11 governor-appointed members. Four would be required to have professional, volunteer or public service experience related to the governance duties of the commission and seven would be affiliated with the tourism industry.
Thirty days after passage, the bill would dissolve the current commission membership and create 11 districts based on geography and tax lodging revenues to ensure statewide representation. Members would serve four-year terms and be limited to two successive terms.
The bill also would stipulate that contracts awarded by the commission follow rules established by the state Department of Administrative Services, clarify grant guidelines and require the commission to adopt written policies governing expenditure of appropriated funds.
Stinner said the commission's fiscal problems came to a head in 2016 when its director was fired for misuse of state-appropriated funds following a "scathing" state audit report. The commission has since begun taking steps to rectify those problems, he said, and the bill would help by diversifying the board and increasing professionalism.
"LB222 is part of a long-standing effort to integrate oversight measures into the structure of the Nebraska Tourism Commission," Stinner said. "In the spirit of the Nebraska tradition of fiscal responsibility, I am confident that the previously mentioned changes to the commission and the passage of this bill will accomplish the oversight objectives."
Todd Kirshenbaum, chairman of the Nebraska Travel Association, testified in support of the bill, saying the board membership changes would create a more diverse voice for the state's tourism industry.
"The commission is now under the dynamic leadership of a new director and this bill will be the next logical step to make the commission even better," he said.
No one testified in opposition to LB222 and the committee took no immediate action on it.