Physical restraint proposed for unruly students
Teachers could physically restrain violent students and remove unruly students from the classroom without facing legal action under a bill heard by the Education Committee Feb. 7.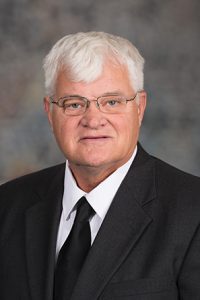 LB595, introduced by Sen. Mike Groene of North Platte, would allow teachers and administrators to use physical force to restrain or subdue a student that becomes physically violent toward himself or herself, another student, a teacher or an administrator. A teacher or administrator also could physically restrain a student who is destroying school property.
Groene said the bill would help teachers maintain discipline in the classroom. He said current student discipline regulations authorize suspension or expulsion of students, but there are no guidelines for containing violent and disruptive students.
"We need to help our teachers control their classrooms," Groene said.
The proposal would allow a teacher to remove a student from class if the student's behavior interferes with the teacher's ability to communicate with students or with the students' ability to learn.
A student removed from a classroom for disruptive behavior could be placed into another classroom, in-school suspension or an alternative education program, but a principal could not return the student to the classroom from which they were removed without the teacher's consent.
The bill would prevent legal action or administrative discipline against teachers who protect students or themselves, protect school property or remove a disruptive student from a classroom.
Jay Sears, speaking for the Nebraska State Education Association, testified in support of the bill. He said the association received more than 7,000 responses to an email survey about LB595 that it sent to members. Eighty percent of respondents reported that discipline and behavior problems have increased, Sears said, and 60 percent said unruly and disruptive students are the biggest problem they face in the classroom.
"Our members have told us in no uncertain terms that they need strong support and additional resources and training to ensure safe classrooms for all students," he said.
Karen Haase, an attorney who practices school law, testified in opposition to the bill, saying that it points to a need for mental health resources for young children, not a lack of options for dealing with violent and unruly students. Simply removing a disruptive student from the classroom will not solve the problem, she said.
"I believe that LB595 is bad public policy — bad for teachers, bad for schools and bad for kids," Haase said.
Lynn Redding also testified against the bill. As a person with a disability who has had restraints applied to her in school, she said that the bill would not help create a safe environment for teachers and students.
"I fear that letting teachers be free of potential discipline or legal actions will allow the potential for abusive situations," she said. "There is a line that needs to be drawn to protect a child, even one engaging in a bad behavior."
Brad Meurrens, public policy director for Disability Rights Nebraska, also opposed the bill. He said restraint can result in the injury or death of children, especially when staff are not trained. The bill contains no safeguards or provisions for staff training, Meurrens added. He urged the committee to instead commission an interim study to address school violence.
"The problems inspiring this legislation are complex and require a thoughtful, planned and deliberate process, which is starkly lacking in this bill," he said.
The committee took no immediate action on the bill.