Bill would prohibit employment discrimination against family caregivers
A bill seeking to expand employment protections to include family caregivers was heard by the Business and Labor Committee Feb. 6.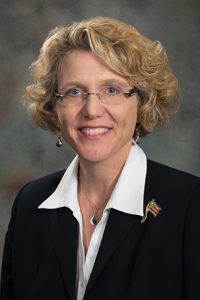 Currently, employers covered by the Nebraska Fair Employment Practices Act may not discriminate based on race, color, religion, sex, disability or national origin. LB372, introduced by Bellevue Sen. Sue Crawford, would add family care responsibilities to the list of protected classes.
The bill defines family care responsibility as providing direct and ongoing care for a person's spouse, child, parent, sibling, grandchild or grandparent — or a spouse's child or parent.
Crawford said that approximately 51 percent of Nebraskans have acted as an unpaid caregiver for a loved one and that 60 percent of those providing care were employed either part time or full time while doing so. The state needs to ensure that these caregivers are safe from workplace discrimination, she said.
"Caregivers in Nebraska play a vital role in ensuring that our older populations can continue to live at home longer," Crawford said. "LB372 creates protections for caregivers by adding family care responsibilities as a protected class."
Susan Campbell, co-chairperson of the Nebraska Caregiver Coalition, testified in support of the bill, saying that caregivers need assurances that they can care for loved ones without being harassed or fired.
"It is so important because if you aren't a caregiver — or haven't been a caregiver — you will be," Campbell said.
Omaid Zabih, staff attorney for Nebraska Appleseed, also testified in support, saying many low-income workers have little or no flexibility in their schedules to address family care needs and often face retaliation when seeking the ability to care for family members. The state has an interest in ensuring that workers can care for their families while pursuing gainful employment, he said.
"The inclusion of care responsibilities as a protected class would support these vital interests," Zabih said.
Testifying on behalf of the Nebraska Independent Business Association, Robert Hallstrom testified in opposition to LB372. Under the bill, something as insignificant as administering over-the-counter medication throughout the day could qualify as a caregiving responsibility and engender a claim, he said.
"The definition of family care responsibilities is extremely vague and will dramatically increase the amount of frivolous litigation," Hallstrom said.
The committee took no immediate action on the bill.