Two-person crews requested for freight trains
Members of the Transportation and Telecommunications Committee heard testimony Jan. 31 on a bill that would improve safety for freight train crews.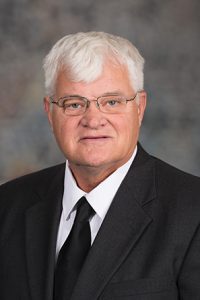 LB404, introduced by North Platte Sen. Mike Groene, would require a crew of at least two people on each train or light engine used in the movement of freight. Groene said the bill would improve safety for train crews as well as the general public.
"In cases of emergency or mechanical issues, another crew member should be required in order to prevent accidents," he said, "especially when one member of the crew may be impaired or unable to detect issues which may lead to accidents."
Violation of this requirement would result in a fine of no less than $100. Additional, graduated fines would be levied for subsequent violations committed within three years of the initial violation.
The Public Service Commission would enforce the two-person requirement, directing any collected fines for distribution to the counties for use by public school districts.
North Platte locomotive engineer Joe Meuser testified in support of the bill. He said having a second person on the train provides a second set of eyes to look for potential safety hazards.
"I'm sure at some point you'll hear the railroad tell you that technology has made it possible to operate a train safely with one person," he said. "It is possible — it's just not safe. It is essential that the primary concern remain the continued safe operation of every train."
Kevin Potthoff of McCook also supported the bill, saying that many trains carry hazardous materials near water sources, schools and homes.
"When we went from crews of five people to two people, the change was dramatic," Potthoff said. "I cannot fathom what it will be like to go down to a one-person crew."
Representing BNSF Railway, Jeff Davis opposed LB404. He said scientific studies have shown improved technology, not a second crew member, makes a train safer.
"We'll keep operating trains with two-person crews for the foreseeable future, but I can't predict what will happen in 15 years," he said. "All I ask is that we're able to work with our employees in implementing new technology to make railroading safer."
The committee took no immediate action on the bill.