Changes to pharmacy regulations proposed
The Health and Human Services Committee heard testimony Jan. 27 on a bill that would update state law regulating pharmacy practice in Nebraska.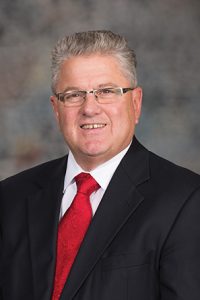 LB166, introduced by Seward Sen. Mark Kolterman, would amend and update the Pharmacy Practice Act and the Uniform Controlled Substances Act.
Kolterman said regulations governing pharmacists in Nebraska have not been updated since 2007. A recent review of those regulations revealed the need for updates and clarifications in state law, he said.
"This is a very important piece of legislation," he said. "We need to get this right."
The bill would clarify that a Schedule II controlled substance could be dispensed in an emergency situation in which a prescribing practitioner determines that no appropriate alternative treatment is available, immediate administration of the controlled substance is necessary and it is not possible to provide a signed prescription for the dispenser.
Among other provisions, LB166 also would:
• require that a pharmacist intern be supervised at all times;
• allow more than one drug to be placed in a container in certain circumstances;
• specify that 60 days be the quantity of drug indicated for a long-term care facility resident;
• allow a hospital to provide the unused portion of a drug to a patient upon discharge under certain circumstances;
• extend the time available to fill the remainder of a partially dispensed controlled substance prescription from 72 hours to 30 days after the prescription date;
• authorize a pharmacist to enter into a practice agreement with a qualified licensed health care practitioner to provide pharmaceutical care independently; and
• require that a registered pharmacy in which controlled substances are stored or dispensed complete a controlled-substances inventory when there is a change in the pharmacist in charge.
Joni Cover, CEO of the Nebraska Pharmacists Association, testified in support of the bill, saying it would bring consistency to pharmacy practice in the state while also providing flexibility to practitioners in rural areas.
For example, she said, an individual who falls from a horse in a rural area may not have access to a 24-hour pharmacy within 100 miles of where they live when released from a hospital.
"We wanted to have some continuation of care provisions so that you can take medication home with you until the pharmacy is open on Monday," Cover said.
No opposition testimony was given and the committee took no immediate action on LB166.