Movie theater accommodations proposed
Movie theaters would provide special accommodations under a bill heard by the Judiciary Committee Jan. 26.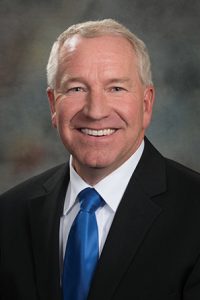 Under LB269, introduced by Syracuse Sen. Dan Watermeier, movie theaters with five or more screens at one location would be required to provide open movie captioning at two weekly showings of each movie produced with open captioning through 2021.
A movie with open captioning projects dialog on the bottom of the screen, viewable to all audience members.
Watermeier said handheld captioning devices currently are available but can distract from the experience and lessen enjoyment of a movie for viewers who cannot hear well. Movie theaters can obtain open captioning movies at no additional cost, he said.
"According to the Hearing Loss Association of America, 20 percent of Americans have some level of hearing loss," he said. "It's important we provide the means by which deaf and hard of hearing Nebraskans can enjoy the movie experience."
Violations would be considered a discriminatory practice and subject to a penalty of up to 30 days in county jail, a fine of up to $100 or both.
John Wyvill, executive director of the Nebraska Commission for the Deaf and Hard of Hearing, testified in support of the bill. He said handheld captioning technology often is ineffective or unreliable.
"[Unreliable technology] prevents approximately 20 percent of our population from enjoying the movie-going experience," he said. "All we're asking is very simply to have captioning on the movie screen, the same as you'd see if watching a movie with captioning on Netflix."
Representing the National Association of Theatre Owners, Jeff Logan opposed LB269. He said most theater owners are accommodating of all movie viewers.
"Open captioning is really an older solution. I think there are better solutions now that the technology is evolving," Logan said, adding that many hearing individuals prefer not to watch a movie with open captioning. "We don't want to exclude anyone from the theater experience."
The committee took no immediate action on the bill.