Adjustments, cuts to HHS programs proposed
The Health and Human Services Committee heard testimony Jan. 25 on four bills that would make adjustments and cuts to programs in the state Department of Health and Human Services (DHHS) Division of Children and Family Services.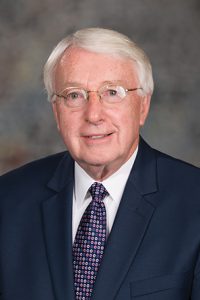 The bills were introduced by Ralston Sen. Merv Riepe on behalf of Gov. Pete Ricketts as part of his proposed budget modification package. The bills represent funding alterations that would require changes in state law to accomplish.
Riepe said the changes are being proposed in light of the state's projected $990 million shortfall.
"Any of the adjustments in the budget are not because we want to, but because we have to," he said.
LB334 would allow DHHS to end a pilot program in which the department contracts with two child-placing agencies to deliver the family-finding model. The model is used to locate and engage family members and others to accept placement or become more involved in the life of a state ward in need of permanency.
Doug Weinberg, director of the Children and Family Services Division testified in support of the bill, saying department workers can do the job of finding relatives and other connected adults to engage with and possibly care for state wards.
He said the number of children placed with a relative or kin has increased from 36 to 55 percent since 2014.
"This is an area where we can embrace efficiency," Weinberg said, adding that eliminating the contracts should save the state $883,800 per year.
Karen Authier, CEO of Nebraska Children's Home Society — one of the two agencies currently contracting with the state to locate wards' families — testified in opposition, saying DHHS workers already are struggling to keep up with current caseloads.
In addition, she said private agency workers are specially trained in encouraging connection between family members and state wards who often have multiple emotional and psychological issues. She proposed that the state consider narrowing the scope of the pilot project to the most difficult cases rather than eliminating it.
"While I acknowledge the need to reduce spending and achieve a balanced budget, I believe that there are alternatives to consider that would allow for continuing the pilot on a more limited basis," Authier said.
Also considered was LB335, which would eliminate implementation of any rate changes in 2017 for child care providers as a result of the Child Care and Development Fund Market Rate Survey.
Testifying in support of the bill, Weinberg said the federal government requires the rate survey, and current state law requires DHHS to adjust the rates paid to child care subsidy providers based on the survey.
LB335 would delay any increase in Nebraska's provider rates for two years, he said, saving the state approximately $7.4 million.
Sarah Ann Kotchian, testifying on behalf of the Holland Children's Movement and the Nebraska Child Health and Education Alliance, opposed the bill. The state's child care subsidy program served more than 34,000 children in 2015, she said, and suspending a rate adjustment for providers would further limit the choices that low-income families have for child care.
"LB335 stands out as the most damaging and direct hit to the largest population of our youngest and most vulnerable at-risk children," Kotchian said.
A third bill, LB333, would end funding for the state's short-term disability program.
Under current law, DHHS must perform an independent medical review of an individual's disability if he or she is denied benefits by the federal Social Security Administration based on the duration of the disability.
An individual may then qualify for and receive short-term assistance from the State Disability Program (SDP) for up to 12 months.
Testifying in support of LB333, Weinberg said SDP serves an average of 50 individuals a month and has an annual budget of $4.2 million. The program currently has 16 active participants who receive an average of $740 a month in cash benefits and nearly $6,000 a month in medical services, he said, adding that only three people will remain in the program after June 2017.
He said that another small DHHS program that is not being fully utilized could cover the cost of services to the remaining individuals until their eligibility ends.
"It may not meet all the needs, but it will meet some of the needs," Weinberg said.
Finally, LB336 would allow DHHS to assess a fee for background checks involving the state's abuse registry.
Riepe said DHHS conducts an average of 10,000 background checks each month involving the state's central registry, which contains reports of substantiated cases of abuse and neglect.
Various agencies that care for children and vulnerable adults conduct background checks to ensure that potential employees and volunteers do not appear in the registry, he said, which is required by state law and maintained by the department.
The bill would allow the department to charge a fee, not to exceed $3, to conduct a central registry background check. The fee could be waived if the requesting party demonstrates that the fee would create an undue financial hardship.
Weinberg, testifying in support of the bill, said DHHS intends to start with a $2.50 fee, which should net the department approximately $200,000 per year.
The committee took no immediate action on the bills.