Bankruptcy provisions, wage garnishment discussed
The Judiciary Committee heard two bills Jan. 20 that would expand bankruptcy provisions and establish a wage garnishment fee.
Currently, a person may exempt up to $2,500 of personal property when filing for bankruptcy or resolving a creditor judgment. LB105, introduced by Bancroft Sen. Lydia Brasch, would increase that exemption to $5,000.
Brasch said the exemptions were created as a safety net for personal property. Modernizing the 20-year old limits will help debtors maintain a level of dignity in the face of financial hardship, she said.
"The longer the Legislature goes without updating exemption amounts, the less debtors will be able to keep due to inflation," Brasch said.
LB105 additionally would increase an exemption for household items from $1,500 to $3,000 and an exemption for business tools and equipment from $2,400 to $5,000. The bill also includes a separate exemption for a debtor's interest in a motor vehicle for up to $5,000.
Gregg Neuhaus, a Grand Island attorney, spoke in favor of the bill. He said the separate motor vehicle exemption is important for many Nebraskans.
"A lot of people in Nebraska don't have access to public transportation and accommodations," he said. "A rural Nebraskan may have to drive 40 or 50 miles to get to the doctor or the grocery store. Vehicles are necessary for survival, not just getting to work."
In opposition to the bill, Omaha creditor attorney Sara Bauer said the exemptions made sense for bankruptcy filings, but could create unnecessary difficulties for creditors attempting to collect on valid judgments against debtors.
The committee also heard testimony on LB229, introduced by Gothenburg Sen. Matt Williams, which would allow financial institutions to impose a $15 fee for each wage garnishment request filed by a creditor.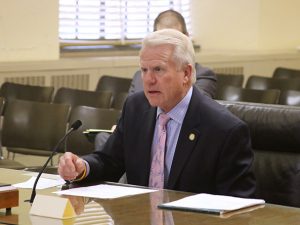 If a financial institution charges a process fee to a debtor as part of a garnishment proceeding, the $15 fee would be deducted from the process fee.
Under current law, creditors must have a good reason to believe that a debtor maintains an account with a specific financial institution before filing a garnishment request. Williams said many creditors ignore the law and file multiple requests at different banks, which must then absorb the associated costs regardless of whether an account exists.
"The small fee proposed by LB229 is justified compensation for the benefits received [by the creditor]," he said. "Everyone in the chain of collection is paid some sort of fee by the judgment creditor, except for the banks. It's time to fix that."
Representing the Nebraska Bankers Association, Robert Hallstrom supported the bill, saying it would encourage creditors to more closely follow existing law and discourage them from "fishing" for accounts that may or may not exist.
John Rogers, an Omaha creditor attorney, opposed LB229. Each time a creditor files multiple garnishment requests without a good reason to believe an account exists at a particular bank, he said, those fees are passed on to the debtor.
"This $15 fee is going to raise the cost of a judgment every time a creditor files a garnishment," Roger said, adding that the bill will not make the process easier or cheaper for the debtor.
The committee took no immediate action on the bill.