Background checks for child care providers considered
Criminal backgrounds checks for all licensed child care programs in Nebraska would be mandatory under a bill heard Jan. 20 by the Health and Human Services Committee.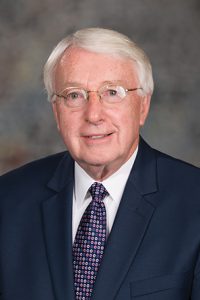 Under LB284, introduced by Ralston Sen. Merv Riepe, the state Department of Health and Human Services (DHHS) would have the authority to require federal criminal background checks for all staff and employees of licensed child care programs and providers that receive federal subsidy funds.
Riepe said the reauthorized federal Child Care and Developmental Block Grant Act requires the background checks. DHHS currently may require federal criminal background checks as part of the licensure process, but it is not mandatory.
LB284 would make those checks mandatory at the expense of the licensee. An estimated 14,500 federal background checks would be required, Riepe said, at a cost to the licensee of approximately $29 each.
Nebraska receives more than $30 million annually from the block grant to fund child care licensing activities in the state, Riepe said.
"In addition, Nebraska uses the funds for an array of activities supporting quality child care, including child care subsidies, health and safety monitoring of licensed child care providers, professional development and trainings," he said. "Failure to comply with grant requirements would result in the potential loss of all or part of those funds."
Jennifer Roberts-Johnson, deputy director of the DHHS Division of Public Health, testified in support of the bill. The block grant funds provided by the federal government is the primary funding source for improving the quality of child care in Nebraska, she said.
"All states that receive Child Care and Developmental [Block Grant] funds must ensure that there is an FBI background check completed on all licensed child care programs, as well as programs that are not required to be licensed but receive subsidy," Roberts-Johnson said.
No one testified in opposition to the bill and the committee took no immediate action on it.